These days, it looks like everyone is just looking for a reason to start a boycott...but here is why you need to stop being offended by everything!
I don't know when it started, but it seems like one day, everyone woke up and decided that they should never ever be offended by anything ever again.  And that, if they decide that something DOES offend them, they can just yell "I'm offended!" and expect the world to instantly bend to their will.
Let me be clear - this isn't a Republican/Democrat thing or even a liberal/conservative thing. Evangelical Christians lose their minds over a non-Christmas-y Starbucks coffee cup. Liberals go nuts over the branding of Bic pens.
Well - guess what - that isn't how it works in this country and if you see or hear something that offends you, the responsibility is on you to avoid it.
It's on both sides - and it needs to stop!
Of course, there are things that pretty much offend everyone, and that is why we have laws against those things.  We can pretty much all agree that murder is offensive and wrong, and so we have laws against murder.  The same goes for rape, child labor and animal cruelty.
Sometimes the offense doesn't rise to the level of outlawing it, but most people have decided that it is a thing that we.don't.do in a polite society.  An example of this is using racial slurs (and if racial slurs don't offend you, then you might want to stop reading this post - and never come back to this site again)
But what happens when you come those everyday things when to someone is being offended by something. It might be a flavor of ice cream or something a reality TV star said.
The truth is society has become so defensive that many people are afraid to say anything. When did we become so sensitive? Our grandparents would be ashamed. Let's take a closer look at why everyone needs to stop being offended by everything.
We're All Different
The great thing about people is that we're all different. We all have different passions, enjoy different things, and have different beliefs. Our diversity is what makes us so wonderful. It can interesting to learn about things others enjoy, if we're open minded.
If we chose to be offended by anything different, we are no better than those who approved of segregation.
What Others Do Shouldn't Concern You
Why should let yourself be concerned with what others are doing? Does it really matter if the child in your child's class is reading the Bible at lunchtime? Should it concern you that the family next door aren't Christians? The truth is none of this matters. All that matters is what you're doing. Stop focusing on others.
It's not like you can do anything about it, unless you want to be one of those people that sticks their nose in everyone's business.
Being Offended Won't Change Anything
What does being offended change? Nothing. You can choose to be offended by every little thing or you can choose to go about your business. Ask yourself. Why are you offended? Is what the person's doing affecting your life in any way? If not, why do you care? Does it really make a huge impact on your life because someone wears a shirt with a slogan that offends you? No.
Maybe you think of yourself as some sort of "social justice warrior". To the rest of the world, you are just being an a-hole.
You'll Enjoy Life a Lot Less
If you let yourself become offended by every little thing, you will have a miserable life. You'll constantly be focused on what's upsetting you. Just stop. Focus on what makes you happy. You can't let the actions of others affect you.
You can choose to be that person that's constantly offended or you can live your own life. The truth is being offended doesn't do anything but screw with your life.
Focus on what makes you happy and ignore the things that upset you.
You'll be much happier once you learn to stop being offended by every little thing.
Pick your battles.
Do you know what I do when a new television show comes on and it contains something that offends me?
I don't watch it.
Guess what happens when I see a t-shirt in a store that I think might promote a negative body image for my daughter?
I don't buy it.
What I also don't do is scream up and down on Twitter or Facebook about how offended I am and call for a boycott.
Just have a glass of wine, take a deep breath...and chill.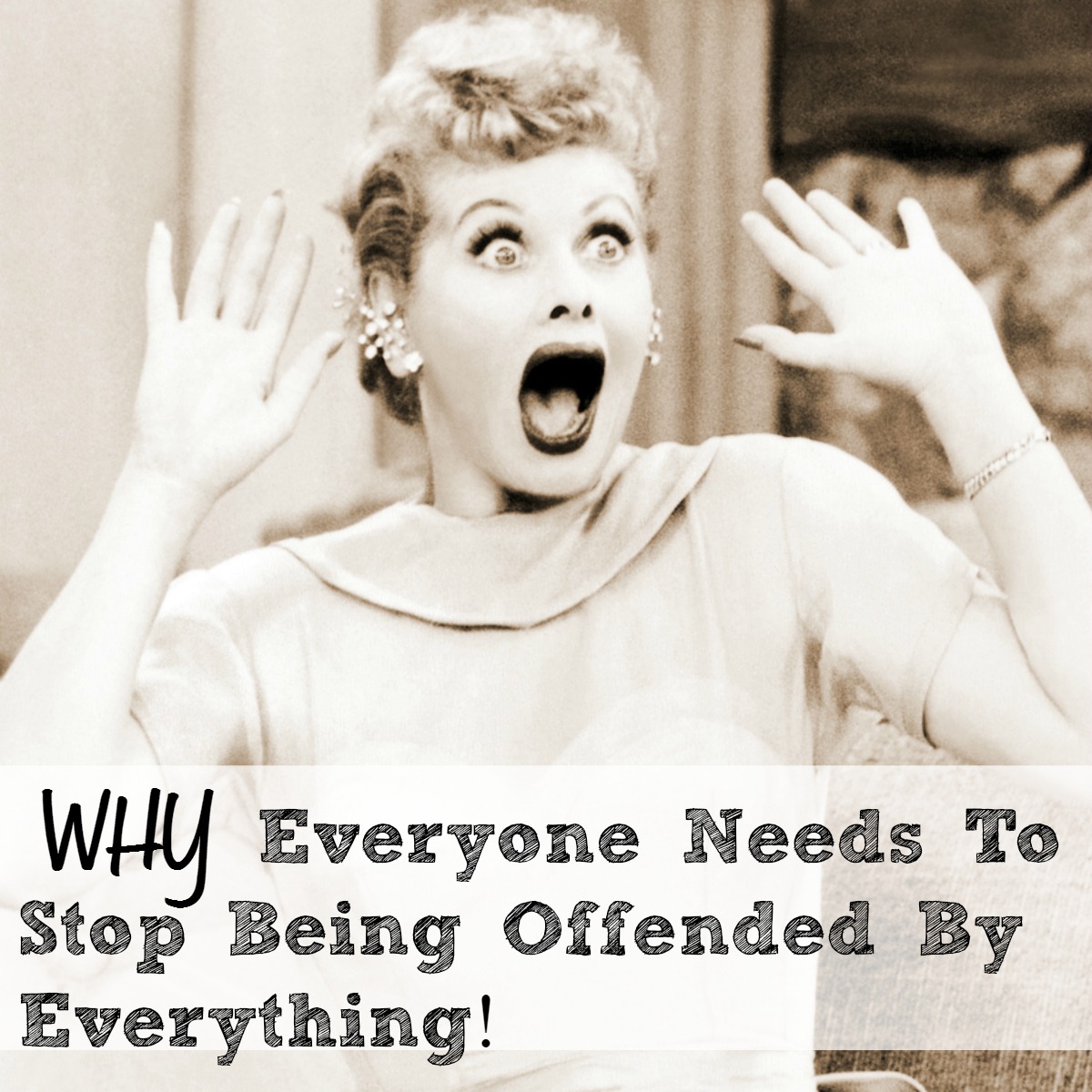 Why Everyone Needs To Stop Being Offended By Everything