A freezer can be a great way to stock up on foods when they are cheap and then save them for later. But there are just some foods that you should NOT freeze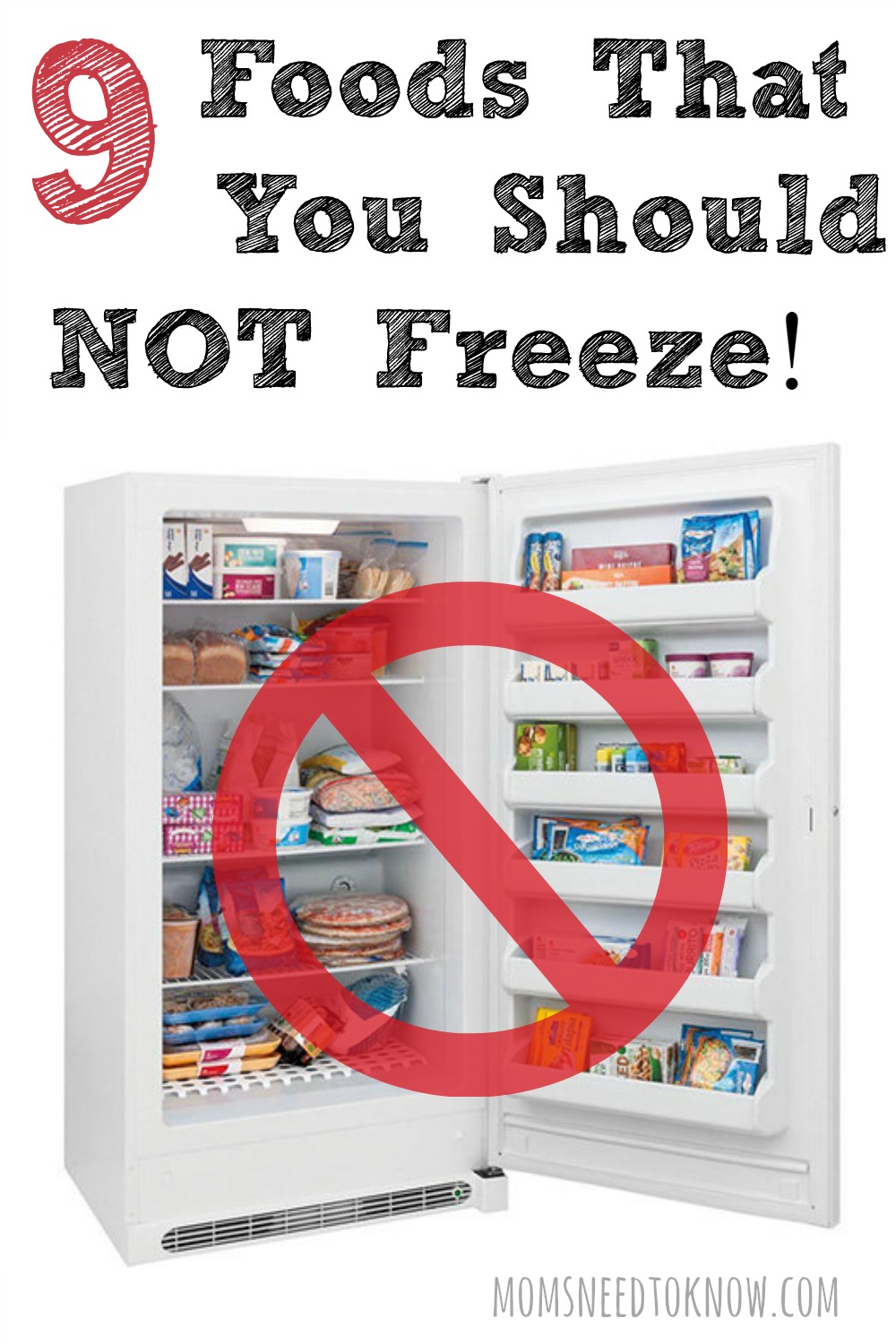 Freezing is an excellent form of food preservation. Unfortunately, not all foods freeze well. Some foods separate. Some foods experience a texture change. Other foods can create a mess. If you like to freeze foods, it pays to know which foods that you should not freeze so that you don't waste money. Let's take a closer look.
1. Cream Cheese
You may find a great deal on cream cheese and think that you'd like to stock up. If you do, only buy as many packages as you can use before the expiration date. The reason is the texture and flavor of the cream cheese can change drastically when frozen.
If you ever find yourself with a block of frozen cream cheese, the only way I know to "save it" is by using it in place of butter when making homemade mashed potatoes.  The heat from the potatoes will melt the cream cheese and it will blend in fairly easy.
2. Mayonnaise
If you don't eat a lot of mayonnaise, you may be tempted to freeze part of the jar for later use. This isn't a good idea. Mayonnaise separates when it's frozen. When you thaw it out, you'll have a gross looking liquid that you won't want to spread on any sandwich. The same can be said for any mayonnaise-based condiment or sauce.
3. Crisp Vegetables
Onions, peppers, greens, lettuce, and celery lose all their integrity when frozen. When you thaw these items, they will be mushy and unappetizing. The color will also change, leaving the vegetables an unappetizing color.
4. Pasta
Who likes mushy pasta? Unfortunately, freezing pasta will result in it being mushy (except for my Mexican Lasagna recipe and my freezer friendly lasagna recipe - THOSE freeze beautifully!). The water in the pasta will cause the pasta to change texture as it freezes and thaws. In other words, the freezing destroys the cell walls of the pasta.
5. Spices
Many spices will actually become stronger in flavor when frozen. Some will become so strong that the flavor is actually bitter. If you want to preserve your spices, consider using a vacuum sealer. This will remove the air from the spices and increase their shelf life.
That being said, there are a few ways that you can freeze your herbs (look for that post next week), but as a general rule, you can't just go throwing fresh basil and cilantro in the freezer!
6. Cream Pies
Cream pies can also suffer from separation issues when frozen. When you thaw the pies, the water can separate from the filling, leaving you with a watery mess and a soggy crust. If you want a pie that freezes well, consider making fruit pies.
7. Fried Foods
The coating of fried foods loses all the crispiness that you love when frozen and thawed. The only way to regain that crispy texture is to deep fry the foods a second time, which can add even more oil to the food. (you can bake them, but it won't have the same texture)
8. Sour Cream
Sour cream is another food that will separate when frozen and thawed.  Unlike cream cheese (see above), there is just no "saving" frozen sour cream (trust me, I have a spot in my refrigerator that will freeze dairy and lettuce if I accidentally put it there - I can't tell you how much sour cream I have thrown away!)
9. Raw Eggs in the Shell
Last, but not least, you should never freeze raw eggs in their shells. When liquids freeze, they expand. What does this mean for eggs? As the liquid freezes, it will expand to the point that it will cause the shells to burst. This will create a large mess in your freezer. If you want to freeze raw eggs, do so in large ice cube trays. Once frozen, transfer to a zip top bag.
Your freezer can be a great place to store items you can't eat before they expire. However, there are some foods that you should not freeze. Not only can these foods lose their texture, but some will change in flavor and others will even make a mess.
Do you have any other foods to add to the list?
9 Foods That You Should Not Freeze