This Spanish rice recipe is so simple to make that you will stop buying the boxes in the store - and it bakes up right in your oven!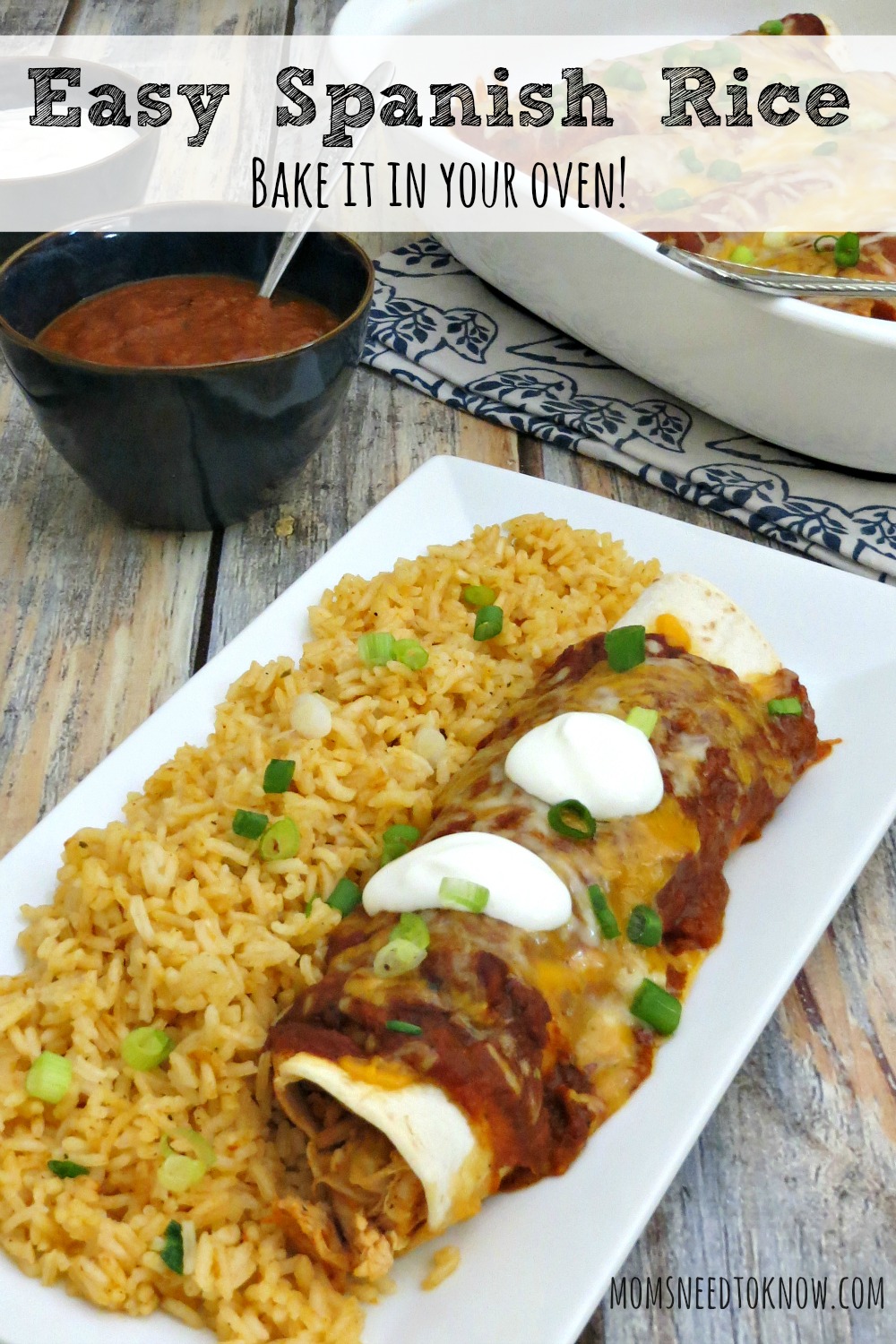 We love enchiladas in our house (mainly because they are so easy to make) and Spanish rice just seems to be the perfect side dish to go with them.
Ever since I started making my own enchilada sauce, I also stopped buying those boxes of Spanish rice mix as well. It's just too easy to make from scratch!
As I said before, when I make my homemade enchilada sauce, I will make a large batch and freeze or can the rest (using the water bath method of canning) so that we always have enchilada sauce in the house. You COULD use store-bought enchilada sauce, but give my enchilada sauce recipe a try (unless you already have a favorite recipe).
A simple mixture of long-grain rice, some enchilada sauce, oil and a few spices, this Spanish rice recipe bakes up in your oven so you don't have to worry about stirring it or it burning to the bottom of the pan.
Even though we use a red enchilada sauce, this would still be a nice side dish with green chili chicken enchiladas or even with my sweet and spicy shrimp tacos - I have even been known to throw some of the rice right in there with the tacos.
My family isn't that adventurous, but I have also thrown some (drained and rinsed) canned black or kidney beans in with the rice before baking it. It just gives it some added color, protein and flavor.
This Spanish rice recipe is a bit mild in flavor, but that is mainly because I usually serve it with enchiladas that are using the same sauce as in the rice and I don't want it to be too overwhelming. If you want a little more flavor, increase the amount of enchilada sauce by 1/3 to 1/2 cup and reduce the amount of chicken stock that you use by an equal amount.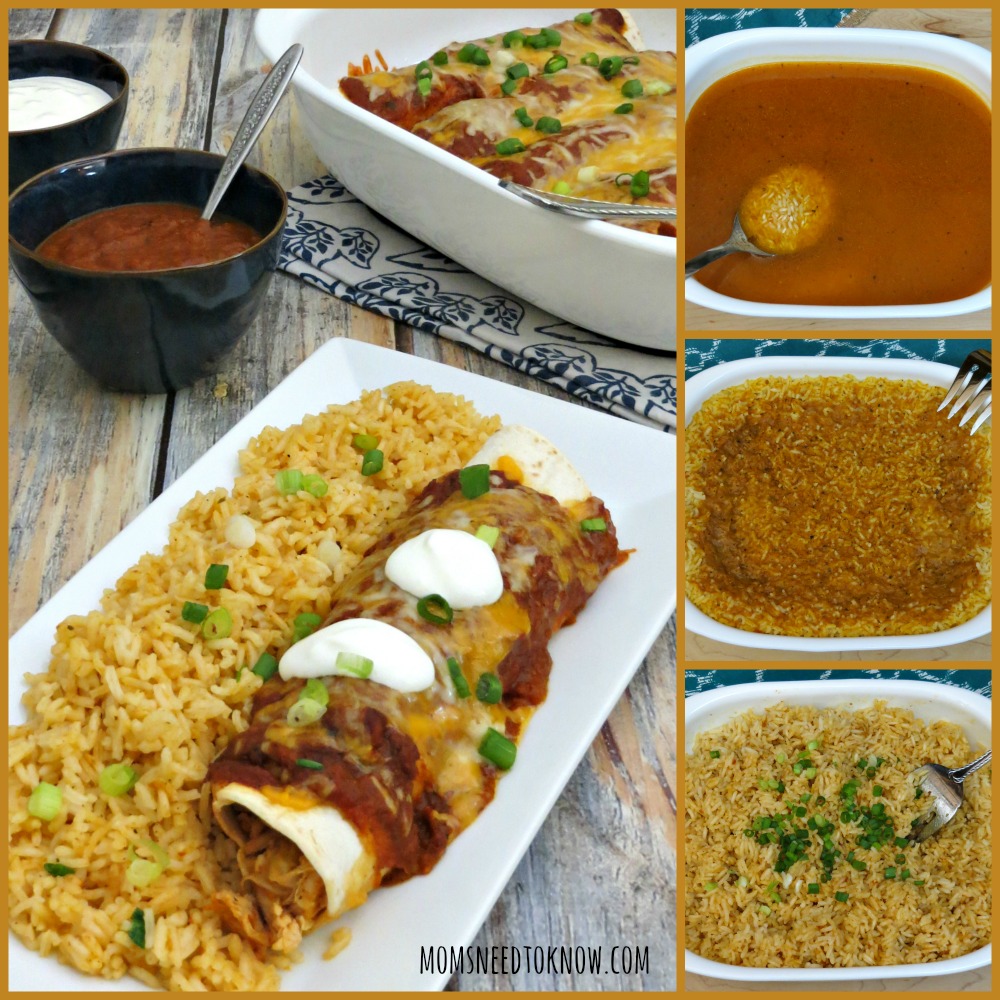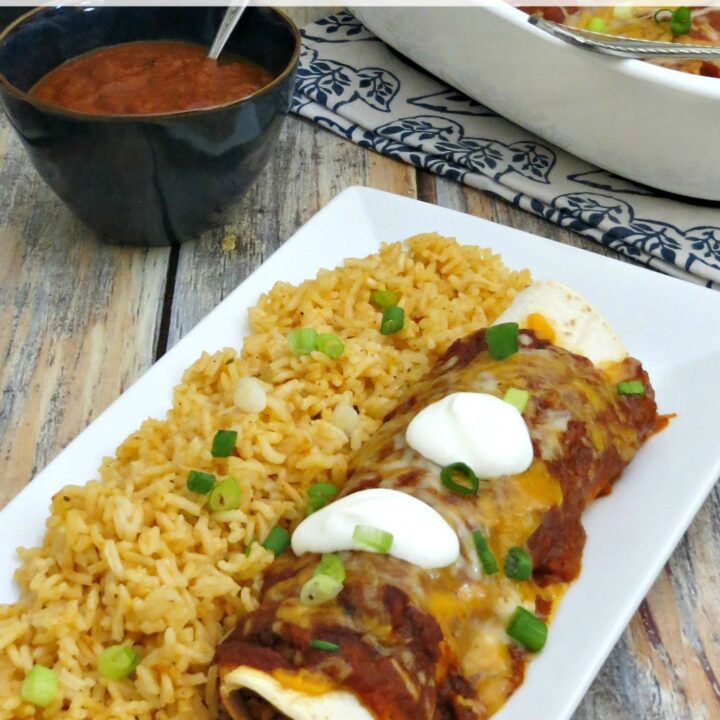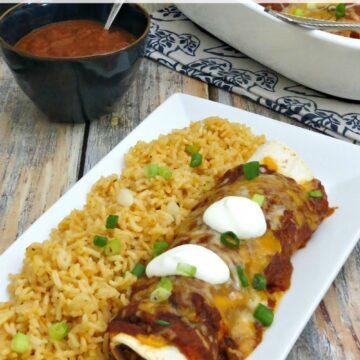 Baked Spanish Rice Recipe
This Spanish rice recipe is so simple to make that you will stop buying the boxes in the store - and it bakes up right in your oven!
Print
Pin
Ingredients
2

cups

long grain rice

3 1/2

cups

chicken stock

1/2

cup

enchilada sauce

store-bought or you can make your own enchilada sauce

4

Tbsp

olive oil

1

tsp

salt

1/2

tsp

black pepper

1/3 - 1/2

sliced green onion

scallions

juice from 1 lime

optional

3

Tbsp

chopped fresh cilantro

optional
Instructions
Preheat oven to 350F

Place rice in a 2 qt baking dish

In a medium saucepan, bring the chicken stock, enchilada sauce, oil, salt and pepper to a boil.

Pour the mixture over the rice and stir to combine

Cover tightly with foil and bake for 30 minutes.

When the rice is done, fluff with a fork and stir in the sliced green onions.

If desired, stir in the fresh cilantro and lime juice.
Spanish Rice Recipe