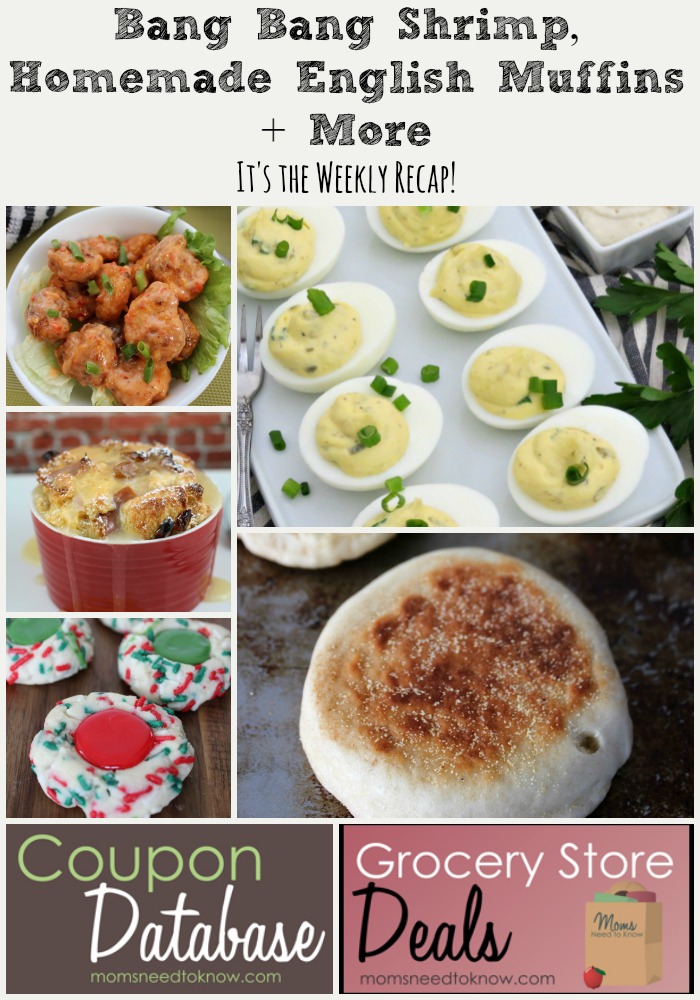 I hope that you had a very Merry Christmas (for those that celebrate)! I was busy making a ton of cookies this week, so posting was a little slow this week,but I am sure that you understand!
Welcome to our new Sunday feature a weekly recap of everything that you may have missed on our little corner of the Internets! If you would like to get this weekly recap each Sunday - just subscribe to our weekly email list!
Weekly Recap for December 20 - 26, 2015!
Latest Recipes:
Bang Bang Shrimp Recipe | Copycat Bonefish Grill Recipe -  After years of going out to restaurants for this, I decided it was time to come up with my own bang bang shrimp recipe - I nailed it! This is delicious!
Homemade English Muffin recipe -  You won't believe how easy it is to make your own English muffins - and you can do it for just a fraction of the cost of buying them!
The Best Deviled Eggs Recipe | Spicy, With A Touch of Horseradish! -  Meta description from post
Eggnog Bread Pudding Recipe -  This eggnog bread pudding recipe is a completely decadent way to enjoy the flavors of the season. Be sure to pair it with my homemade vanilla sauce!
Easy Christmas Thumbprint Cookies -  My children look forward every year to helping me make these Christmas Thumbprint Cookies because instead of fruit, we use icing in the middle!
Saving Money
Coupon Insert Preview | Week of December 27, 2015 - Find out what coupons will be in the newspaper this Sunday so that you can decide if you will want to purchase additional copies of the paper!
Grocery Deals and Coupon Matchups Updated | December 27, 2015 - find all the best deals for the upcoming week at CVS, Rite Aid, Walgreens, Kroger, Wegmans, Giant of PA and more!
Did you know that you can get the weekly recap by email? This will be great for you current subscribers who get the daily emails because they don't want to miss anything, but would prefer to receive fewer emails. It's really simple! Just head to my subscribe page and complete the form. You will have to confirm your subscription but, once you do, you can expect to get an email with everything you missed every Sunday morning!