Making your ham in the crockpot is really easy and a great way to free up your oven for other things that you need to cook for your meal!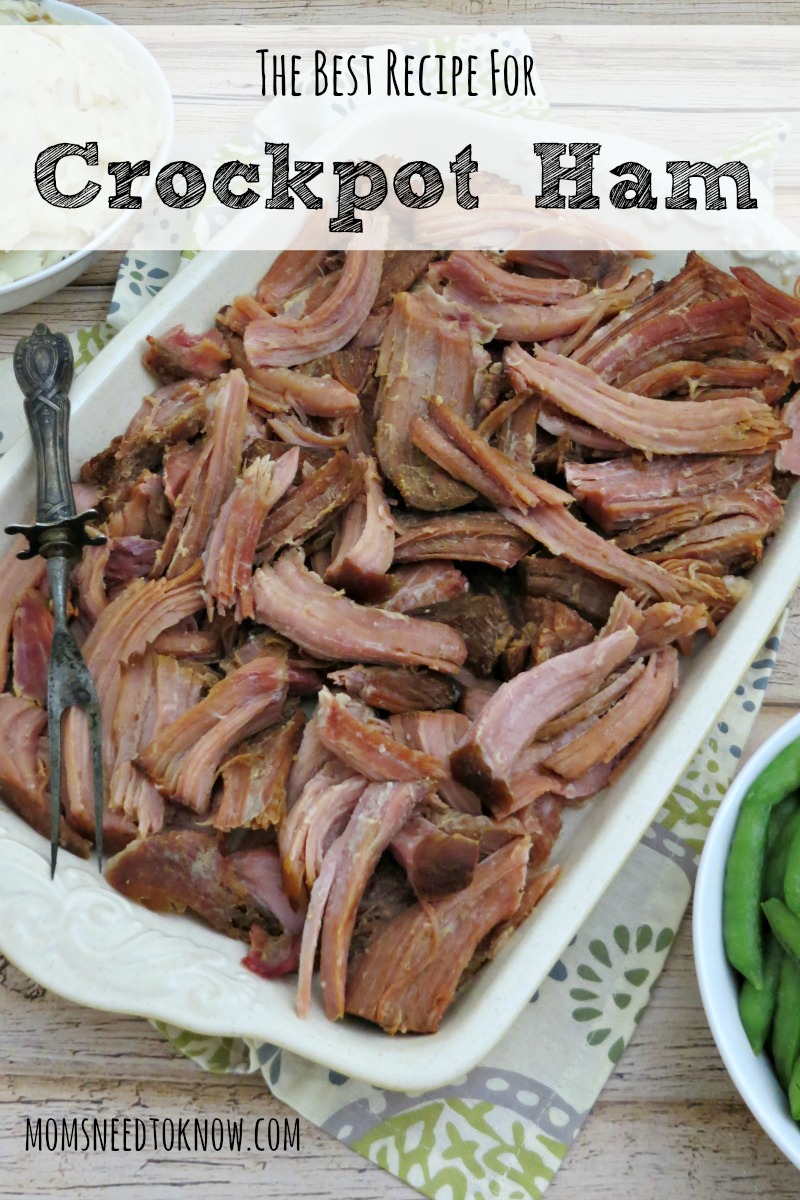 We love ham in this house and after every "ham holiday" (Easter, Christmas, etc), I am always staking out the grocery stores to get a good deal on them (they usually will mark them down a few days after the holiday) and stick them in the freezer for later.
And when it comes time to cook my ham, I will usually make a "mini holiday dinner", complete with oven roasted butternut squash, some creamy cucumbers and onions, a loaf of my homemade beer bread and even a nice dessert!
And because I only have 1 oven (I continue to be jealous of my sister and her double oven!), it is just so much easier when I cook the ham in the crockpot!
I have several slow cookers, but my favorite one is my 6-Qt programmable Crockpot because I don't have to worry about the size of ham that I am buying - most all of the ones at my store will fit!  If your ham is too big for your crock pot, cover the top tightly with heavy-duty aluminum foil, making sure it's airtight.
Most hams are already fully cooked and can dry out quickly, so you'll want to check it every 30 minutes after the first three hours. If the liquid appears to be evaporating, add some water. That said, I've made ham in the crockpot more times than I can count, and I've never had an issue with there not being enough liquid. The only reason this might happen is if you have a crock pot that cooks at an unusually high heat.
Cooking your ham in the crockpot in beer not only helps to tenderize it, but gives it a great flavor and makes it incredibly juicy. I've tried many different beers over the years and have found that Killian's is perfect. A nut brown, Oktoberfest or even a light beer would work well. You just want to stay away from anything too hoppy or bitter, because those flavors will intensify as they cook. If you have an aversion to cooking with beer, you can also use a dark-colored soda or apple juice.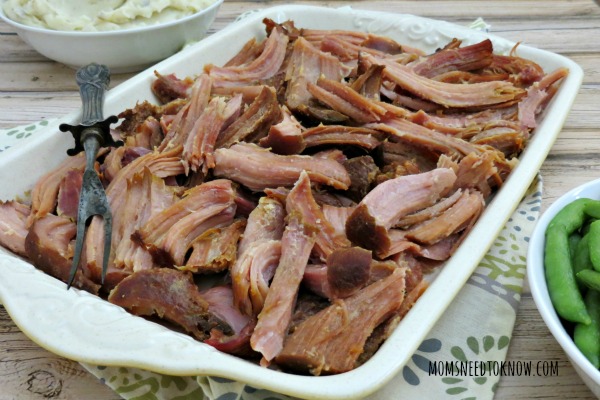 In addition to the brown sugar, you can also add pineapple rings to the outside of the ham by using toothpicks to secure them in place.
If you prefer a glaze over a sauce, simmer the juices until they become slightly thick and coat the back of a spoon.
Leftover ham is perfect for making quick soups (especially my Bean & Ham Soup with Curly Endive!), omelets, sandwiches and so much more!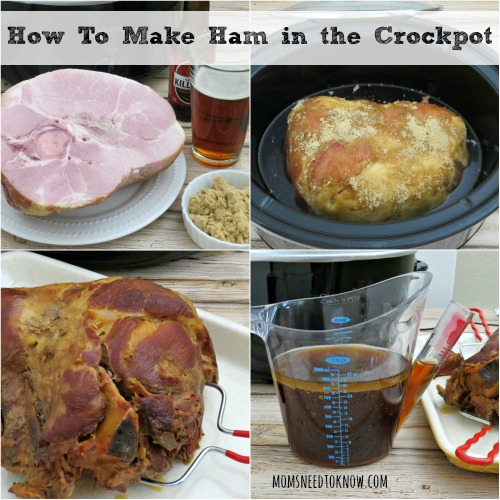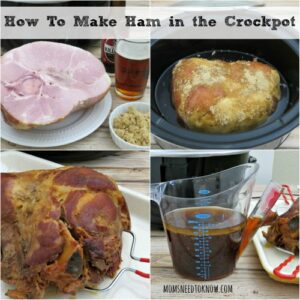 The Best Recipe For Ham in The Crockpot
Making your ham in the crockpot is really easy and a great way to free up your oven for other things that you need to cook for your meal!
Print
Pin
Ingredients
5 1/2

lb

cooked ham

12

oz

beer

1/2

cup

brown sugar

pineapple slices

optional
Instructions
To Make The Ham
Remove the ham from the packaging and rinse under cold water.

Pour a little beer into the bottom of a large crockpot and place the ham on top of it, flesh side down.

Pour the remaining beer over the top of the ham and sprinkle with the brown sugar. I like to press the brown sugar into the skin.

Cover and cook on high for 5 to 6 hours or until the ham starts to come when pulled with two forks.

Carefully remove the ham from the crock pot and set aside to cool. I use turkey lifters to do this.

Pick through the ham to remove any fat and bones. I use my hands to do this, so that I can shred it into nice, bite-size pieces as I go.

Serve the ham with the juice on the side.
To Make the Juice/Gravy
If you want to save the juice from the ham, carefully pour it into a fat separator and allow it to cool for 20 minutes. As it cools, the fat will rise to the top. Pour the juice through a fine mesh strainer into a small saucepot. This will remove any small bit of fat and bone.

Simmer the juice until it slightly reduces and let it hang out over warm heat until it's ready to serve.
Notes
Look for sales at the grocery stores after Christmas and Easter. You can get some great markdowns on hams! I usually pick up 2 or 3 after each holiday and we can have an inexpensive ham dinner all year long!
The Best Recipe For Ham in The Crockpot