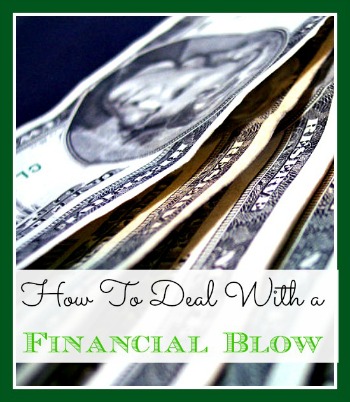 When financial stress hits, it can be all-consuming. It can cause great anxiety that makes you feel edgy, anxious and doomed. No one likes to deal with this unfortunate time in their financial life. Whether your money woes are over job loss, illness (even the illness of a pet) or another big unexpected change, there are ways you can cope with this trying time.
How to deal with a financial Blow
First, know that financial woes are usually not forever as long as you come up with a plan to conquer them. While it may seem like nothing can be done and you will stay in despair forever, this is not true. A positive attitude that this is a temporary battle you have to fight will really help you overcome a lot of hurdles. Know that even though you may not feel like it, you have a lot of power and it starts with your attitude.
Immediately start making short term fixes that make sense in your life to make sure the essentials are covered. Cut extras like cable, internet and cell phone (as long as you are not on a contract). You can always get them back when you get back on your feet.
Look for ways to "trim the fat" from your spending on things like groceries. If you have never used coupons before, now is a great time to start. Any little bit you can save will help you at this point. Find ways to re-use things so you don't have to spend money on them as frequently. Stop using wasteful items like paper towels. Instead opt for rags.
Take things one day at a time. One way to let your money anxieties get the best of you is to worry about tomorrow, next week, next month and next year all at once. Instead, focus on today and what you can do right now.
Look for resources in your community to help you. There is no shame in asking for help. A trip to the local food banks can help ease the blow on your grocery budget. You may be able to find some clothing closets in your area that help with children's clothing for free if you are worried about not being able to afford it right now. If you feel bad for asking, ease your mind with a promise to yourself that you will donate time or money when you are back on your feet to the organizations that helped you and know that you are the kind of people these organizations are there to help.
Find a way to make a plan. Often times, when a person is stressed by finances, it is because they throw their hands up and say, "Now, What?!" Coming up with a plan to solve your stress can help. Little things like a list of ways to get through the small hurdles can help and a plan to work on the big ones can really help you focus again.
Ask about your options. Don't automatically assume you have none. Your mortgage lender or other lenders you owe may be able to give you a "payment holiday" for a short period of time. It doesn't happen often, but it doesn't hurt to try!
Treat yourself. This may seem like a strange time to treat yourself, but you can do something as simple as reading a book under a tree, take a nice walk with a friend or even go play with shelter dogs for an afternoon. It is important to take a mental break from the stress in order to get through this period.
Finally, once you are over this hurdle, pledge to have an emergency fund in place to help you through any future setbacks.  Having an emergency fund will give you an incredible peace of  mind - I promise you!
What are some of your best tips for dealing with a financial blow?