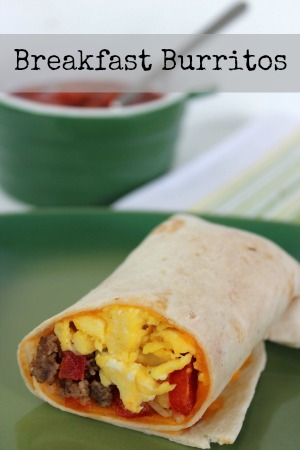 Breakfast Burritos are always such a hit in my house and I love making them because they are just so easy! They are the perfect "on the go" breakfast and they won't make a mess!
My husband prefers it when I add salsa to the burritos just to give them a little more flavor and spice them up a bit. When I do that, I will usually mix the salsa with the meat (after it has been cooked) and then drain out the excess liquid from the salsa. Otherwise, it can easily turn in to a sloppy mess!
I really like to make a big batch of these for the freezer. This way, we have an easy-to-reheat breakfast already made...and it is perfect for my husband on the mornings that he needs to leave for work at 5:00am! Nobody wants to be up cooking eggs at 4:30am! To get these ready for the freezer, I usually skip the step of melting the cheese and just assemble them as normal. Then you can just wrap each burrito in paper towels and stick them in a freezer bag. To reheat them, just place them in the microwave with the paper towel still wrapped around the burrito and microwave at 50% power for 90 seconds!
Anyway - on to the recipe:
Easy Breakfast Burritos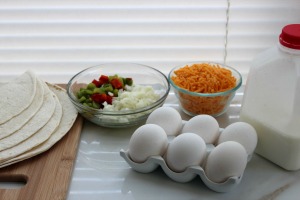 Ingredients: (Yields 4 burritos)
4 Burrito size Tortillas
6 Eggs
2 tbsp Milk
1/2 cup cooked crumbled sausage, bacon or meat substitute
1/2 cup Sharp Cheddar Cheese or Mexican Blend Cheese
1/8 cup chopped Bell Peppers
1/8 cup chopped Onion
2 tsp Butter
Directions:
In a medium skillet, saute onions and peppers until tender. Remove from pan and set aside.
Whisk together the eggs and milk in a bowl.
Melt butter in a non-stick skillet or pan and add the eggs. Cook scrambled eggs until done
Place tortilla on microwave safe place and evenly sprinkle 1/4 of the cheese over over the tortilla
Microwave for 45 seconds until cheese is melted and tortilla is soft.
Top with 1/4 of scrambled eggs, 1/4 of the meat and 1/4 of the sauteed veggies.

Roll in 1 side, then fold in the ends, and flip over the other side.
Serve and enjoy!
I like to serve these with some salsa for dipping and a large glass of milk!  It makes for a nice hearty breakfast!
You might want to try these other breakfast recipes: