Every time I reach for something to eat, I have a choice to make. I can either choose healthy foods that I know are good for me like fresh fruits and vegetables, or I can indulge in some sinfully delicious treats like Oreo Cheesecake Bars or White Chocolate Cheesecake Bars that don't necessarily have a great deal of nutrition. Some nights, it can be a tough choice to make.
That's why I am always thankful for dessert recipes that offer me the best of both worlds, such as an Easy Pumpkin Dip recipe or this Pumpkin Cheesecake Bars recipe. This Pumpkin Cheesecake Bars recipe contains tons of great, healthy and whole ingredients, such as flour, oats, pumpkin and vanilla so I don't have to feel too guilty when eating it. It isn't full of additives, preservatives and food colors either. Instead, it is a simple, homemade recipe that I can really enjoy and feel good about eating. I know it isn't "health food", but at least I can take comfort in the fact that I know everything that is in it!
You don't eat cheesecake for the nutrition, however. You eat it because it tastes good, and this recipe definitely delivers. The way the warm, spiced pumpkin pairs with the cool, creamy cheesecake and the warm, crumbly crust is simply out of this world. This recipe is definitely comfort food at its finest. Whether you have a severe sweet tooth, a broken heart to heal, or you just want to savor a crisp fall night, this Pumpkin Cheesecake Bars recipe is just to hit the spot!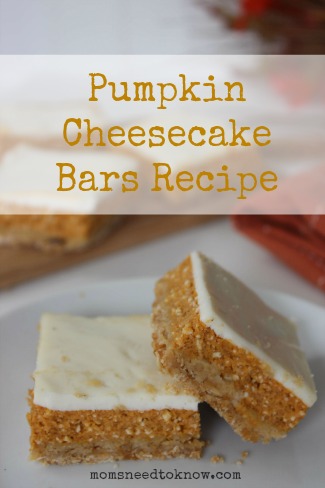 Ingredients
For the Base
1

cup

Flour

3/4

cup

Brown Sugar

6

tbsp

Butter

1

cup

Quick Oats
For the Filling
8

oz

softened Cream Cheese

3/4

cup

Sugar

15

oz

Pure Pumpkin

2

tsp

Pumpkin Pie Spice

3

Eggs
For the Icing
16

oz

Sour Cream

1/3

cup

Sugar

1/2

tsp

Vanilla
Instructions
Preheat oven to 350.

Combine flour and brown sugar.

Cut in butter into mixture until it resembles lumpy crumbs.

Add in oats and stir to combine.

Press mixture into bottom pan.

Bake 15 minutes.

Beat together cream cheese, eggs, 3/4 cup sugar, pumpkin and spice until well blended.

Pour into pan over base and allow to level out.

Bake 25 minutes or until set in middle.

Mix sour cream, 1/3 cup sugar and vanilla.

Spoon mixture over cooked pumpkin layer and spread evenly.

Bake about 5-8 minutes or until set.

Cool completely before cutting.