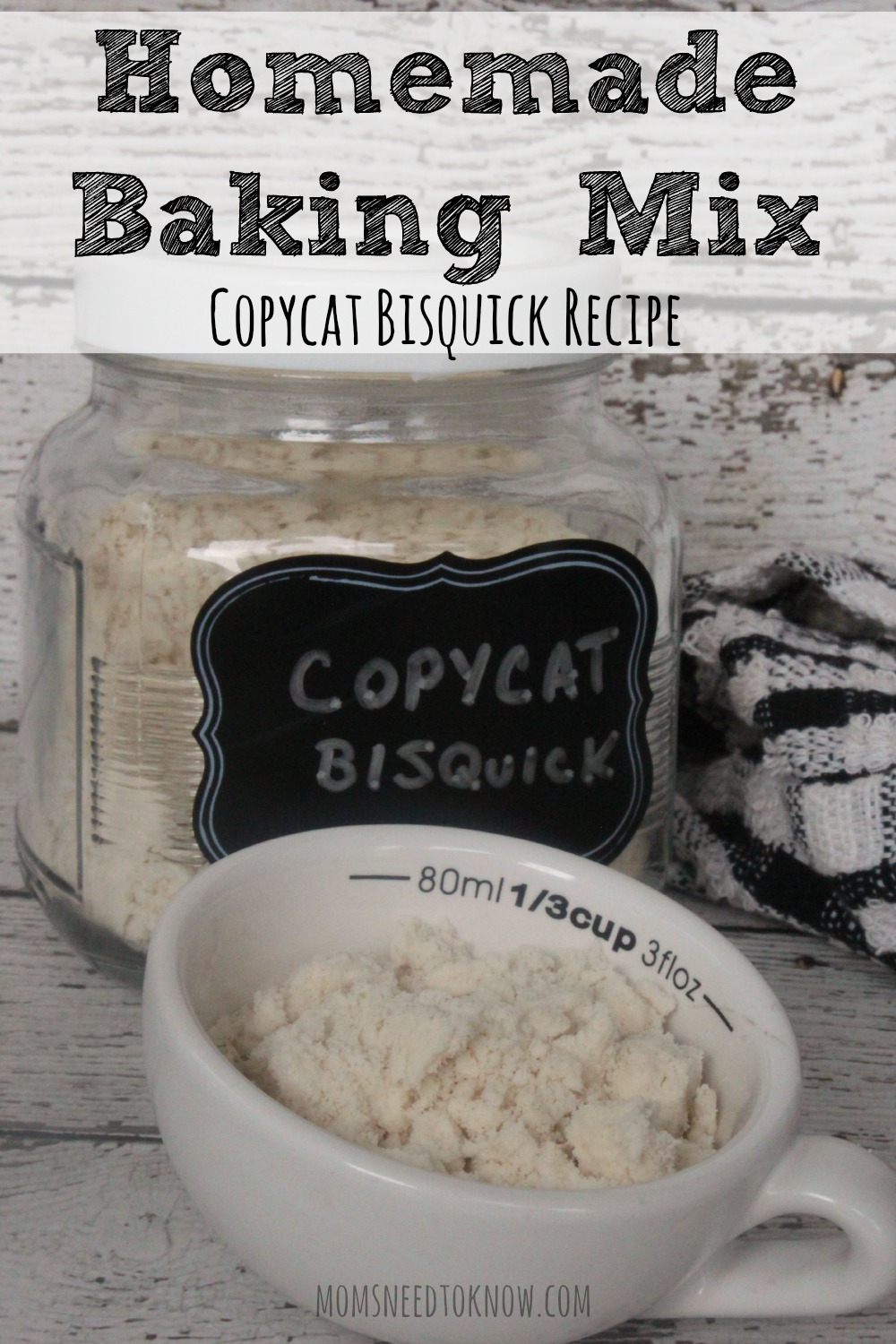 Baking mixes are one of those things to have in your kitchen that are so versatile and will save you so much time, but it really makes no sense to buy at the store.  It is so easy and cheap to make, you can quickly whip up a batch and always have it on hand!
This is just one of many pantry and cleaning items that we have been making from scratch recently.  My children adore my copycat Sweet Baby Ray's Barbecue Sauce recipe and we always keep some copycat Hidden Valley Ranch Dressing Mix on hand! I've even started to make my own homemade Nutella as well as homemade fruit roll-ups!
What can you do with the homemade baking mix?  There are so many uses!  Use it to make homemade biscuits, pancakes, waffles, dumplings and more (scroll down for a few recipes).
Unlike the boxes you buy in the store, this copycat Bisquick recipe should be stored in the refrigerator.  This recipe will make just shy of 5 cups of baking mix, which should be enough for any recipe for which you use it (see a ton of recipes using this baking mix - and I will be posting more on this site as well!)
To make this homemade baking mix, you will need: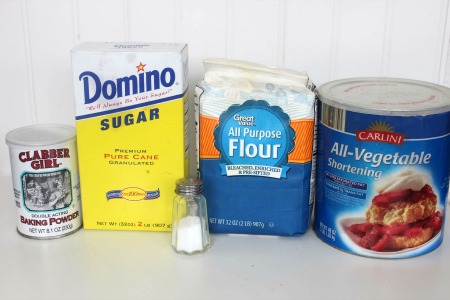 4 cup Flour
2 tbsp Sugar
2 tbsp Baking Powder
1 tsp Salt
3/4 cup Shortening
To make it, simply combine the dry ingredients in a bowl.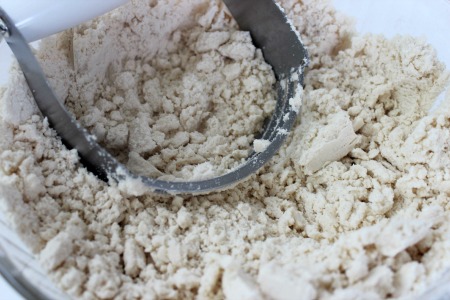 Using a pastry cutter, cut the shortening in to the dry ingredients until the mixture is fine crumbs. If you have a food processor, it will be even easier! Simply add all the ingredients to the food processor and pulse a few times until it is the right consistency.
Scroll down for the complete directions!
(in the meantime)
Pancakes using this homemade baking mix
2 cups homemade baking mix
1 cup milk
2 eggs
Beat the eggs and milk slightly.
Stir in the baking mix and combine until most of the lumps are gone.
Cook on a prepared griddle or frying pan
Biscuits using this homemade baking mix
2 1/4 cups baking mix
2/3 cups milk
Combine ingredients until a soft dough forms.
Turn out the dough on to a cutting board that has been lightly dusted with additional baking mix.
Roll dough to about 1/2" thick and cut biscuits with a biscuit cutter.
Bake at 450F on an ungreased cookie sheet (or one lined with parchment paper) for 8 to 10 minutes or until golden brown.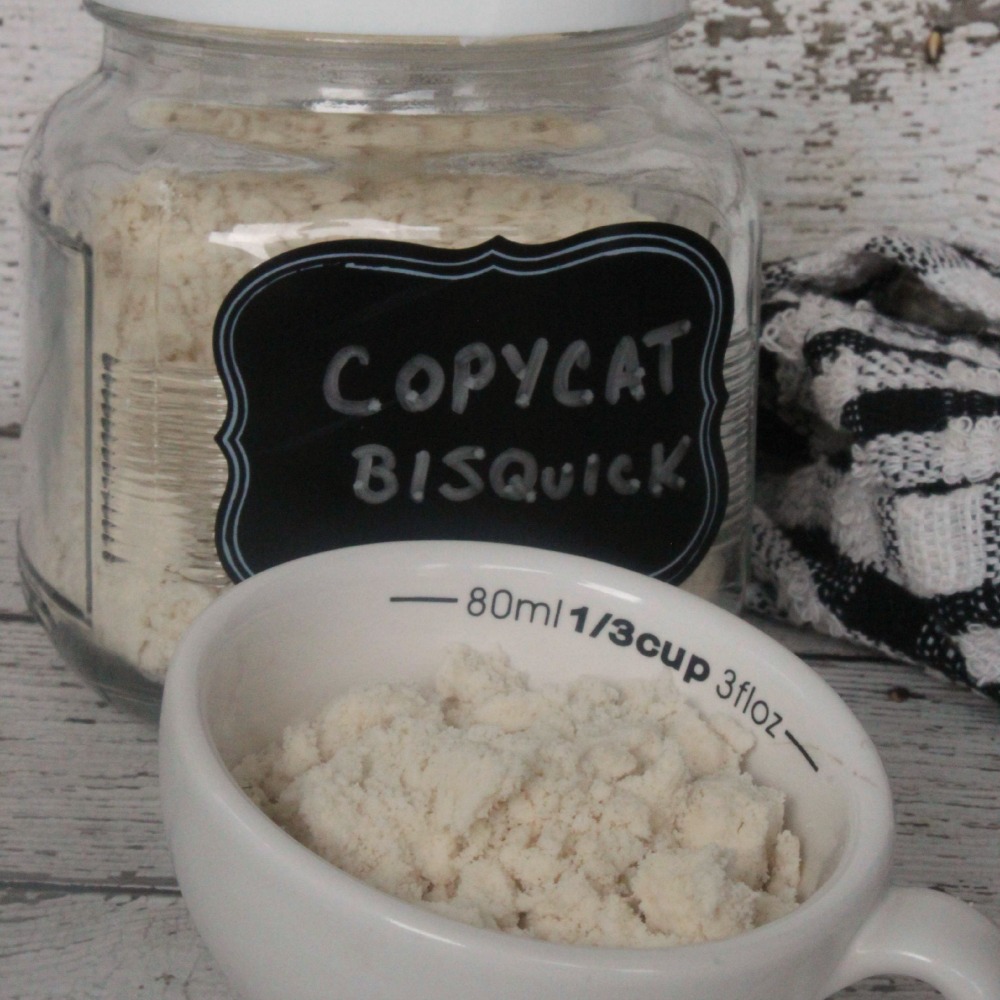 Homemade Baking Mix Recipe | Copycat Bisquick Recipe
By Mindi
This copycat Bisquick recipe is an easy homemade baking mix that can be made for just pennies. You can save so much money by just making it yourself!
Yield - about 5 cups
Preparation Time - 5 minutes
Ingredients
4 cups Flour

2 tbsp Sugar

2 tbsp Baking Powder

1 tsp Salt

3/4 cup Shortening
Directions
Combine the flour, baking powder and salt in a bowl
Add the shortening and cut in using a pastry blender until the mixture looks like fine crumbs. If you have a food processor, you can add everything to the food processor and pulse a few times until the right consistency
Store in the refrigerator in an airtight container