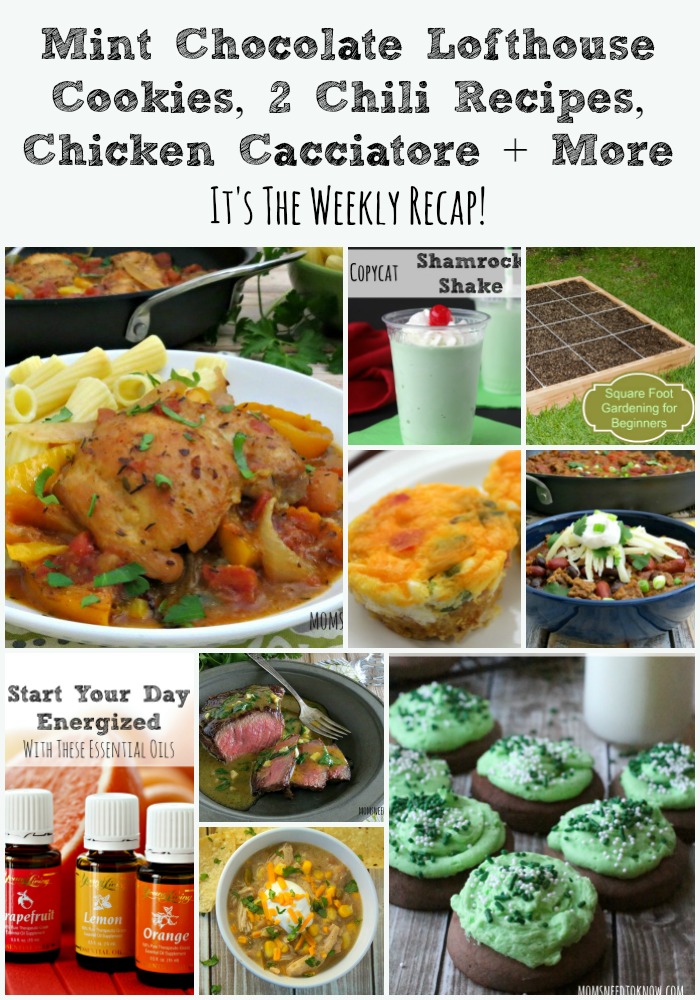 Did you miss me last week? I don't know how I forgot to do a weekly recap last Sunday, but I did. I was dealing with sick kids, a sick dog, parent-teacher meetings and a LOT of cooking recipes for this site. Some were good and will be up soon and one of them? I wouldn't feed it to my dog!
But we learn from our failures...right?
With March just a few days away, things are getting exciting around the Cherry house. I am starting to plan my vegetable garden, I just got a new Compost Tumbler (more on that later this week) and I am just obsessively watching the weather waiting for it to be warm enough to start getting some plants in the ground.
Anyway....
Welcome to our weekly recap of everything that you may have missed on our little corner of the Internets! If you would like to get this weekly recap each Sunday - just subscribe to our weekly email list!
Recap for February 14 - 27, 2016!
Latest Recipes:
Copycat Mint Chocolate Lofthouse Cookies - My family loves Lofthouse cookies and chocolate Lofthouse cookies are the hardest to find in my area. With this copycat recipe, we can have them whenever!
Chicken Cacciatore Recipe -  Chicken cacciatore is a one-pot, rustic dish that's comforting and absolutely delicious. Don't have to be intimidated by the fancy name. It's very easy!
Pan Seared Steak with Cilantro Butter Sauce - Making a pan seared steak come out right is easier than you may think. We cover this steak in a delicious sauce made from butter, wine and cilantro!
Egg Omelet Breakfast Bites -  The reason I love this bite size egg omelet recipe? Everything is done at the same time and the entire family can sit down together and eat!
Copycat Shamrock Shake Recipe -  Do you wait each year for the return of the Shamrock Shake? With this copycat Shamrock Shake recipe, you never have to wait again!
Easy Chili Recipe | Just 30 Minutes To The Table! -  I love a good slow-cooked chili, but sometimes you just want an easy chili recipe that is full of flavor and can be on the table in just a half hour!
White Bean and Chicken Chili Recipe - This white bean chicken chili cooks up in your slow cooker and is so delicious! It's the perfect change from your regular chili or soups!
Featured Posts
Getting Started With Square Foot Gardening -  Square foot gardening allows you to plant many different types of vegetables in a minimum amount of space. This will help you get started!
Start Your Day Energized With These Essential Oils! -  These homemade blends of some of your favorite essential oils have the ability to wake you up, energize you and help you to focus on the day!
Saving Money
Coupon Insert Preview | Week of February 28, 2016 - Find out what coupons will be in the newspaper this Sunday so that you can decide if you will want to purchase additional copies of the paper!
Grocery Deals and Coupon Matchups Updated - find all the best deals for the upcoming week at CVS, Rite Aid, Walgreens, Kroger, Wegmans, Giant of PA and more!
Did you know that you can get the weekly recap by email? This will be great for you current subscribers who get the daily emails because they don't want to miss anything, but would prefer to receive fewer emails. It's really simple! Just head to my subscribe page and complete the form. You will have to confirm your subscription but, once you do, you can expect to get an email with everything you missed every Sunday morning!