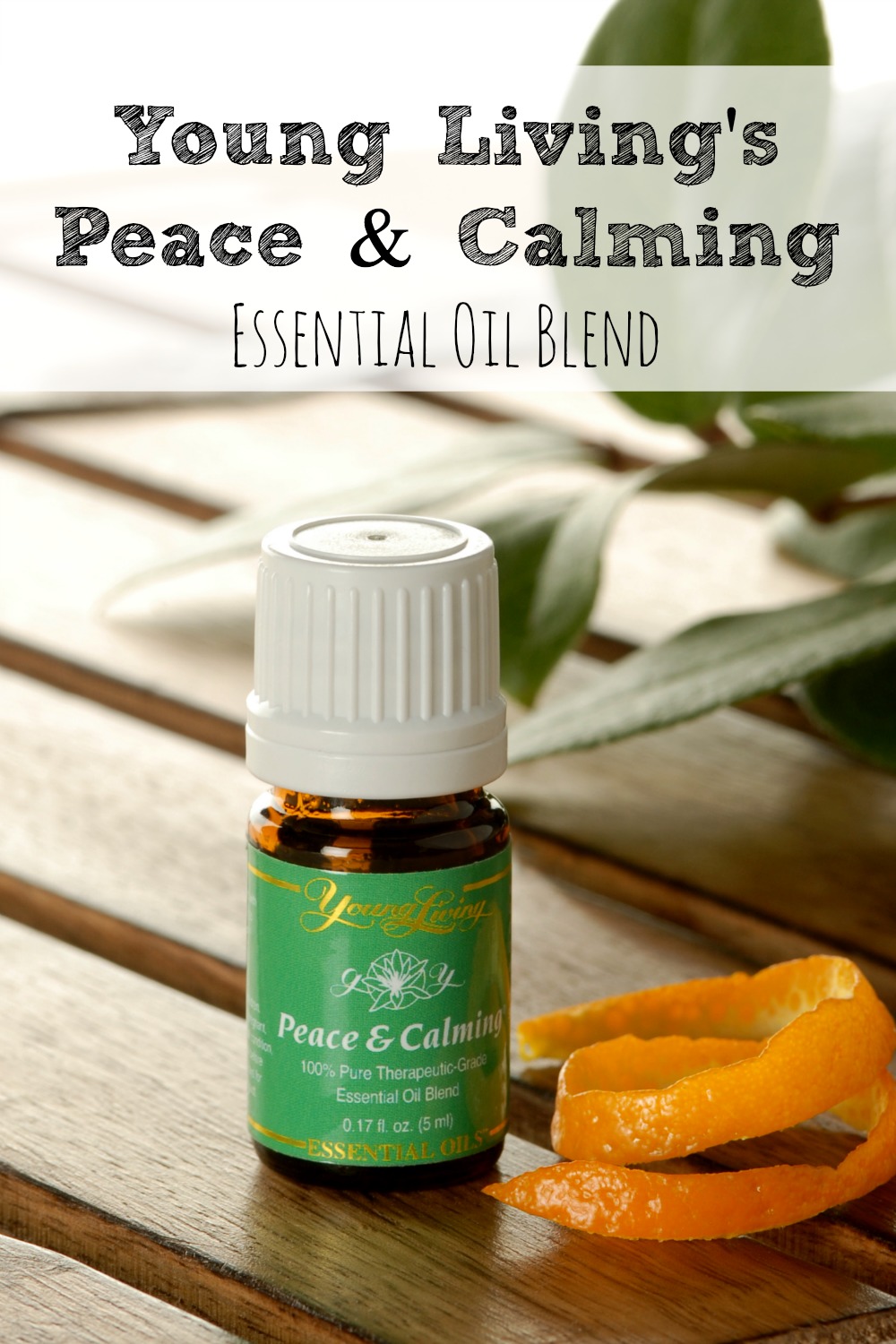 One of my favorite blends from Young Living is Peace & Calming. There are those days that just don't seem to end and others that leave you so stressed out that it is hard to calm down. Thankfully, there is Young Living's Peace & Calming Essential Oil Blend for just such occasions.  It is my absolute favorite oil for when I need to de-stress!.
Peace & Calming is a very light, easy blend to breathe in. These are the essential oils that make it amazing:

Tangerine: Helps to calm nervousness and irritability
Orange: Calms down the body while lifting stress and tension out of the mind
Ylang Ylang: Helps in releasing anger and anxiety and bringing a sense of calm and wellness instead
Patchouli: Releases negative emotions and hostility
Blue Tansy: Helps the nervous system to relax, and to ease tension and stress
There are a few different ways to use Peace & Calming effectively. It is great to diffuse in the early evening to help you get ready for bed. Add 3-5 drops to a carrier oil like Sweet Almond, Jojoba, Coconut, or Grapeseed if you want to dilute it down, you don't have to with Peace & Calming though! Then massage Peace & Calming onto the bottoms of the feet, especially the tip of the big toe. It also works great to massage into your temples and forehead.
If you know you have a stressful day ahead, think about making a roll-on with Peace and Calming. Use a roll-on bottle, add in the carrier oil of your choice, and 2-4 drops of Peace & Calming essential oil blend. During the day, roll this onto your wrists and breathe in deeply. It will help you get centered and grounded and let go of any stress or irritability that has taken root.
You can also soak in a nice epson salt bath with Peace & Calming. Add 1 cup of epsom salts to hot water as it is pouring into the tub. Then add in 2-4 drops of Peace & Calming. The next part is the easiest - gently lower yourself down into the water and let the sweet aroma of Peace & Calming take over.

Not using oils yet? Find out more about Essential Oils on my Getting Started With Essential Oils post and be sure to check back as I share more awesome uses for the Essential Oils that are included in the Young Living Premium Starter Kit! Don't forget that you can get a free Essential Oils Reference Book when you purchase a Premium Starter Kit!
Disclaimer:
These statements have not been evaluated by the Food and Drug Administration. The information on this site is not intended or implied to be a substitute for professional medical advice, diagnosis or treatment. Please confirm any information obtained from or through this web site with other sources, and review all information regarding any medical condition or treatment with your physician. Never disregard professional medical advice or delay seeking medical treatment because of something you have read on this website. This information is not intended to diagnose, treat, or cure any disease.