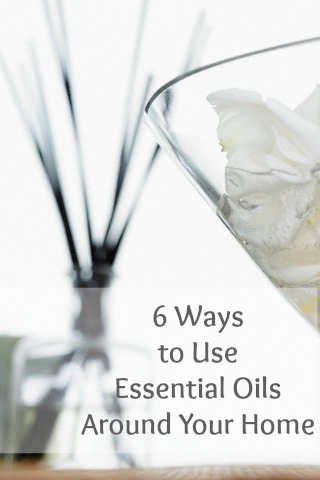 Are you a huge fan of essential oils? By now you have probably figured out that I love them!
You may know that there are a ton of benefits from a health stand point, but there are also many ways you can use essential oils around you home. Before you begin using any essential oil in your home, take note that, as long as you are buying quality oils, these oils go a long way. What is that saying? "A little dab will do you!".
Here are 6 ways you can begin to use essential oils around your home.
#1. Mouthwash (and other body care products)
Are you tired of spending an arm and a leg on mouthwash? It's exciting to know that you can make your own mouthwash right at home. You'll want to use the peppermint oil to complete this and you can find a ton of recipes on Pinterest. Consider making many other body care products right from your essential oils.
#2. First Aid
If you are not one to remember to have a first aid kit on hand, you'll love the idea of keeping essential oils close by. Tea tree oil and peppermint are typically the go to for using essential oils for first aid. Mixing lavender and water together can create a topical treatment for sunburns and lavender oil is also ideal for mosquito bites.
#3. Water
You probably use water in your home a lot, but adding essential oils to your every day water routine can make some positive changes in your life. Lemon essential oil is one that you can use a lot in your water (as long as you are buying therapeutic grade oils, it is safe to add to your water). You can add a little bit of lemon to your water to give it a better taste. Lemon water can also be used for cleaning purposes around your home. Whether you choose to create a lemon cleaning mixture, add dabs to your dish water, lemon essential oil is perfect for the home. Don't forget you can also add lemon to water to clean your floor and wash off your counters. This mixture also works as an awesome disinfectant.
#4. Laundry
Essential oils work awesome in laundry. You can add 1-2 drops to every load (use your preference of essential oil but lemon and lavender are both awesome). You can also make your own laundry detergent using your favorite essential oil. If you can't get a stain out or a sticker off of something, then try using lemon oil specifically to remove it.
#5. Smell Issues
If you live in a normal home, then you probably have some sort of smell issue. Your carpet might have a weird odor from the kids or pets, or the bathroom just doesn't smell quite right. You can make your own spray mist bottle with your choice of essential oil by mixing the oil and water. Or you can use baking soda plus your choice of essential oil in a mixture and let it sit in a high place where no one can reach it. You don't want anyone reaching it, you just want them to be able to smell it.
#6. Rodent Deterrent
If you have kids and don't want to put a lot of chemicals around your home, then use essential oils as a rodent deterrent. This is so simple. All you need to do is take a cotton ball and a few drops of peppermint and place these around your home. Rodents don't like peppermint and people don't like rodents, so it works out well.
I hope this list helps you see some new ways you can use essential oils around your home. Would you add anything to this list?
Find out more about Essential Oils on my Getting Started With Essential Oils post and be sure to check back as I share more awesome uses for the Essential Oils that are included in the Young Living Premium Starter Kit! Don't forget that you can get a free Essential Oils Reference Book when you purchase a Premium Starter Kit!
Disclaimer:
These statements have not been evaluated by the Food and Drug Administration. The information on this site is not intended or implied to be a substitute for professional medical advice, diagnosis or treatment. Please confirm any information obtained from or through this web site with other sources, and review all information regarding any medical condition or treatment with your physician. Never disregard professional medical advice or delay seeking medical treatment because of something you have read on this website. This information is not intended to diagnose, treat, or cure any disease.