The next time you are in the mood for a flavorful breakfast that simply melts in your mouth, here is a recipe you have to try. This Cinnamon Sugar Cream Cheese Bites recipe is warm, gooey, super easy to make, and most importantly–delicious! Start your morning off right with this savory desert-like breakfast.
Do you have picky eaters who resist trying anything new? This recipe is sure to please even the pickiest of eaters. It has no strange ingredients that kids will object to, and the fact that it is homemade means that you can control what goes into it. If you want your kids to try something new, this Cinnamon Sugar Cream Cheese Bites recipe is sure to be the perfect pick.
Do you usually find yourself eating cereal or making crock pot breakfasts like this Crock Pot French Toast recipe because you are short on time on busy weekday mornings? If so, this Cinnamon Sugar Cream Cheese Bites recipe will make the perfect addition to your morning recipe collection. You can prepare the bites the night before and leave them in a sealed container until morning. Then, just pop them in the oven while you are getting ready, roll them in butter and the cinnamon sugar mixture when you are ready to eat, and enjoy!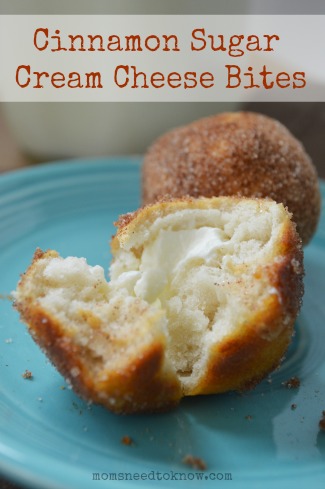 Just because your mornings are busy doesn't mean you can't enjoy a delicious hot breakfast recipe like this Cinnamon Sugar Cream Cheese Bites recipe or this donut recipe. Start your morning with a warm, filling breakfast and you may just look forward to waking up early!
Scroll down for the complete directions!
You might want to try these other breakfast recipes:
Cinnamon Sugar Cream Cheese Bites Recipe
Ingredients
Two cans of ready-made biscuits (or homemade biscuit dough)
1 8oz package of cream cheese (cut into 20 squares)
Melted butter (for dipping)
Cinnamon and Sugar
Instructions
Spread out biscuits until about ⅛ inch thick and place cream cheese square in center. 

Wrap biscuit around cream cheese squares and pinch together. 
Put the pinched side down in a greased mini muffin pan. 

Bake at 350 for 15 minutes or until the biscuits are starting to brown. 
In a small bowl, mix a bit of cinnamon and sugar together for dipping.
Let the bites cool until they are able to be handled and then roll in butter and then follow that by rolling them in the cinnamon mixture.

Enjoy warm.