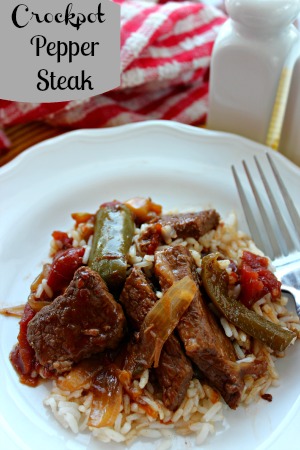 Is there really a more basic and hearty recipe than a good pepper steak? I love making it in the skillet, but even better is a "set it and forget it" crockpot pepper steak recipe! I am just addicted to my slow cooker.  I can spend a few minutes putting everything together and come back in about 8 hours and it is done!
One of the best things about cooking in a slow cooker is that it allows you to buy cheaper cuts of meats. Those are the ones that taste best when they are cooked "low & slow". Just make sure to trim all visible fat and you will be good to go!
The beef does need to be browned/seared before you throw it in to the crockpot - please don't skip that step. It will really make the difference between having nice tender beef and having shoe leather!
Hennyway - to make this Crockpot Pepper Steak recipe, you will need: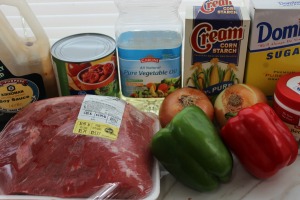 2 lb Beef Roast cut into strips
Garlic powder
2 T Vegetable Oil
1/4 cup Beef Broth
1 T cornstarch
1 Onion
2 Bell Peppers
14 oz Stewed Tomatoes with liquid
3 T Soy Sauce
1/4 tsp ground ginger
1 tsp Sugar
1 tsp Salt
Making it couldn't be easier! Scroll down for complete directions!
You might want to also try these crockpot recipes: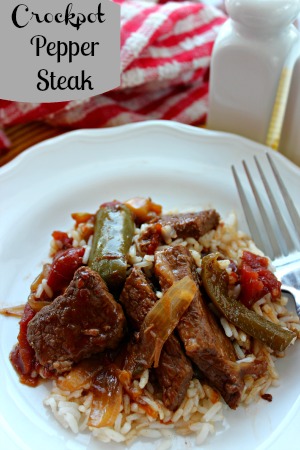 Ingredients
2

lb

Beef Roast cut into strips

Garlic powder

2

T

Vegetable Oil

1/4

cup

Beef Broth

1

T

cornstarch

1

Onion

2

Bell Peppers

14

oz

Stewed Tomatoes with liquid

3

T

Soy Sauce

1/4

tsp

ground ginger

1

tsp

Sugar

1

tsp

Salt

3

cups

cooked white or jasmine rice

cooked according to package directions
Instructions
Heat a non-stick skillet and 2 T vegetable oil on medium-high

Season beef with salt, pepper and garlic powder and brown in vegetable the skillet.

Transfer beef to your slow cooker, reserving drippings in skillet.

Add cornstarch and beef broth to skillet and heat over low heat stirring until dissolved. Use a wooden spoon to scrape up any of the drippings from the bottom of the pan.

Pour mixture over the meat in the slow cooker.

Remove stem and seeds from bell peppers, roughly chop and add to slow cooker.

Chop onion and add to slow cooker.

Add remaining ingredients to slow cooker and cook on low for about 8 hours.

If your sauce looks too thin after 8 hours, spoon about 1/4 cup of the sauce into a dish and blend in another tablespoon of cornstarch and then add it back to slow cooker to thicken.

Serve over rice