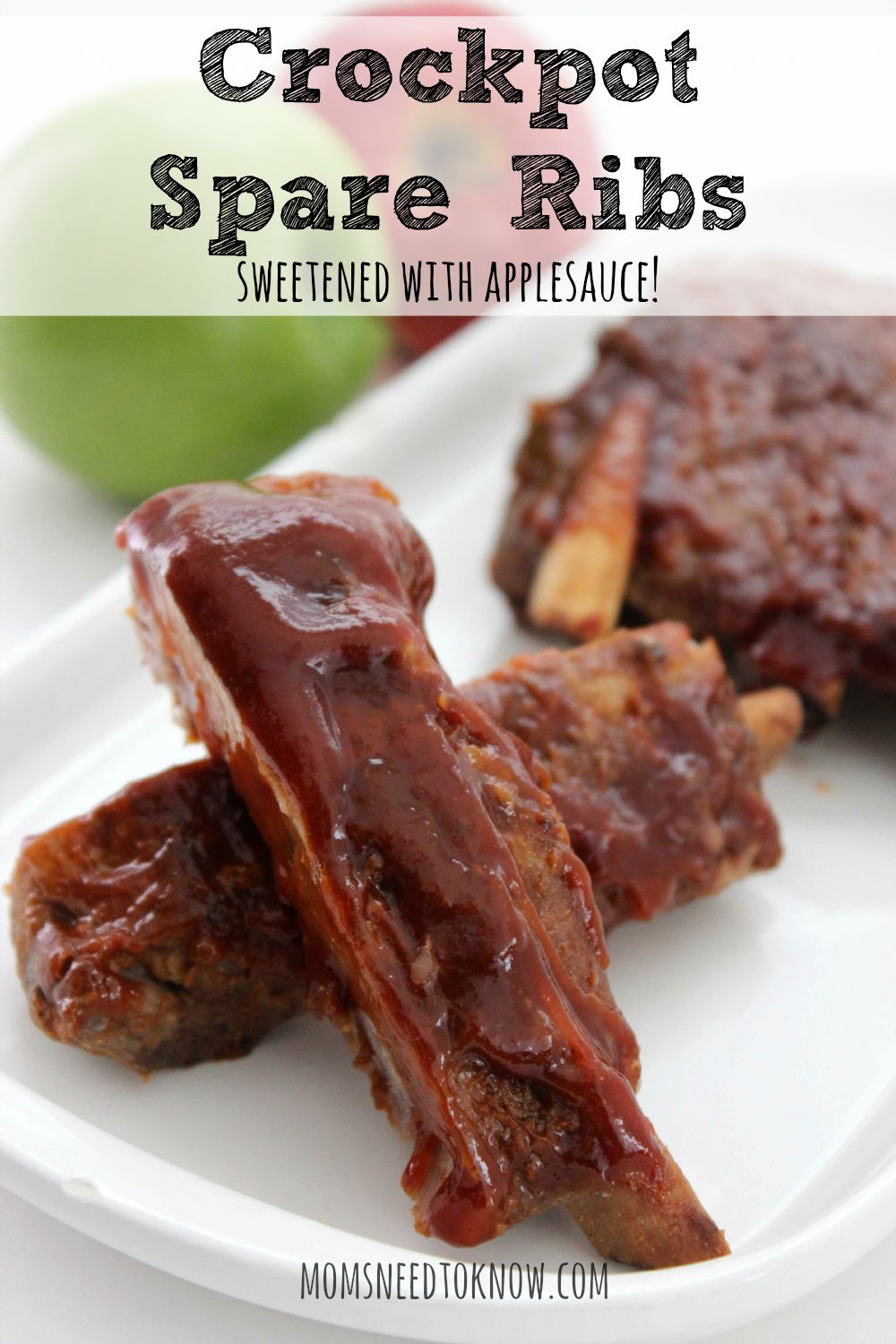 While there is nothing like making spare ribs on the grill, there are times when you don't have room on the grill (usually when my husband wants to have ribs in addition to his bacon-wrapped cheeseburgers), it is too cold to grill or you just don't want to deal with the mess and clean-up of using the grill.
I had heard that some people were able to make spare ribs in their slow cooker, but never tried it myself until recently - and we really liked the results!
I should "back up" here a bit to explain something.  Spare ribs, in our house at least, are kind of a big deal.  My children have always been picky eaters and my daughter is the worst.  But there is one thing that everyone in the family can agree on - and that is spare ribs (ok - and pizza).  So we always want to ensure that, when we are trying something new, everyone is going to like it.
Well, I am happy to say that these crockpot spare ribs were a "home run" in my family!
They won't have the "smoky taste" of cooking them on the grill (although I guess you could add a few drops of liquid smoke to the crockpot or even the barbecue sauce (have you tried my homemade barbecue sauce yet?) to get that flavor.
The best part about cooking spareribs in the crockpot is that you get the same "low & slow" effect that you get when you cook them "low & slow" on the grill or in the oven.  They become so tender that they are almost falling off the bone.  But instead of having to "babysit" a grill or oven, you have the "set it & forget it" benefit of the slow cooker!
If you are making the full 2 pounds of spare ribs (or a little more), you really want to make sure that you are not overlapping them because they won't cook evenly. I used my 6-qt crockpot for this recipe.  If you don't have one that big, you may want to cut down on the amount of ribs that you use...but really - you should have a 6-qt slow cooker! It's not just for larger families. Sometimes, you just need some extra space with what you are cooking!
So now you may be asking "what's with the applesauce"?  Well - I thought that the addition of the apples and applesauce might give the sauce a little more sweetness and I still had some of my crockpot applesauce left over that I had previously canned and was trying to clear out my pantry before I start my next canning session.  It was a "gamble" that turned out delicious!
The apples and applesauce also help to add some more moisture while it is cooking....nobody wants dried-out ribs!
Scroll down for the recipe!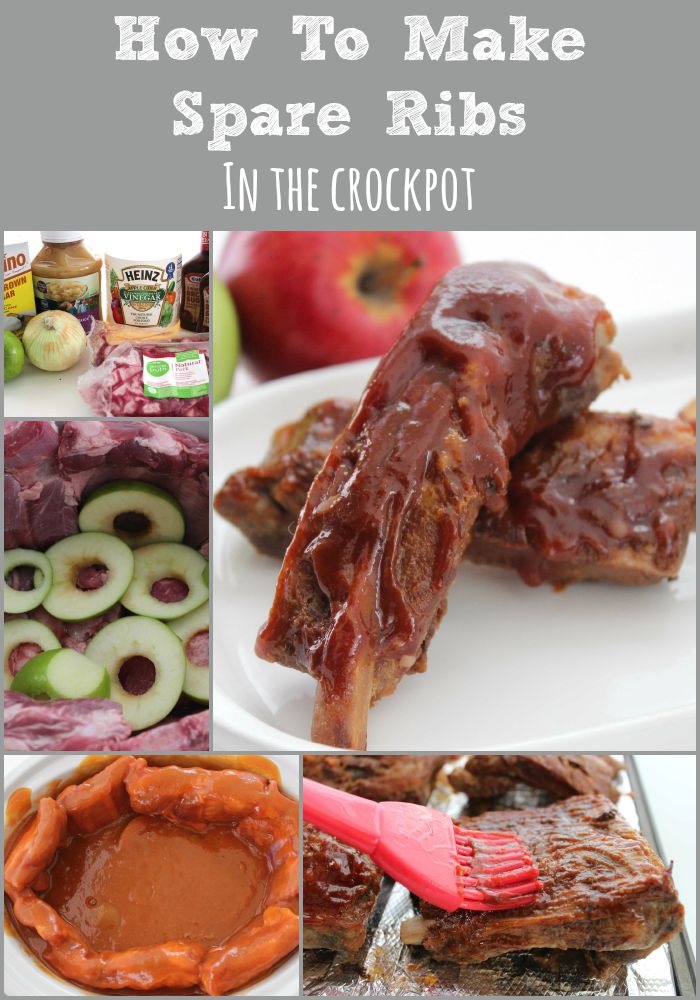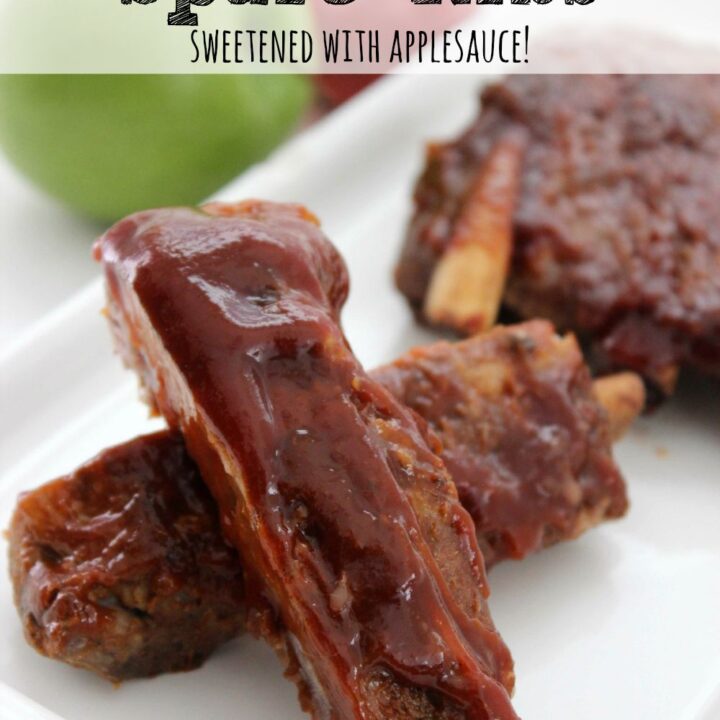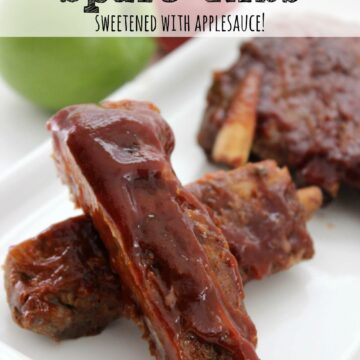 How To Make Spare Ribs In The Crockpot
You can make spare ribs in your slow cooker and have them turn out just as delicious as if you cooked them on the grill! Grab your slow cooker and give it a try!
Print
Pin
Instructions
Cut ribs in to sections (about 3 ribs each)

Arrange ribs around the sides and the bottom of your slow cooker - "meaty" side down, trying not to overlap the ribs as much as possible

Spread apple slices over the ribs.

Combine onion, applesauce, brown sugar, vinegar and 1/2 of the barbecue sauce in a blender or food processor. Pulse until smooth.

Pour sauce over ribs.

Cook on high for 5 hours, or on low for 8 hours, until ribs are tender.

Carefully remove the ribs from your slow cooker and brush with remaining BBQ sauce.

If you want more crispy ribs,you can transfer them to a foil-lined baking sheet and broil for about 4 minutes,

Serve and enjoy!