This orange vanilla yogurt bread uses Greek yogurt to give it a ton of moisture. It is so easy to make and can easily be frozen!
I have to admit, I just love making homemade bread (and baking in general).  I probably average about 2 loaves per week of my homemade beer bread and if we don't have that with dinner, I will usually whip up a batch of my easy homemade biscuits.....and I can't remember the last time I bought English muffins, thanks my my homemade English muffins recipe (although I guess, technically, that isn't baking, since they are cooked on a griddle - but let's not quibble!)
But the bottom line is, my children prefer when my baking takes a little bit of a turn towards the sweet, and this orange vanilla yogurt bread quickly became one of their favorites! I first got them "hooked" on orange-flavored breads when they first tried my orange cranberry muffins, but they often ask me to leave the cranberries out (at least, my husband and daughter do).  There isn't a single thing in this orange vanilla bread that they don't like (although maybe one time I will add some cranberries to the recipe to see if they like it!)
This recipe uses Greek yogurt to give it a TON of moisture, but because it does, you are going to want to use parchment paper to line your pan.  As you know, I am a HUGE fan of parchment paper when it comes to baking because it makes clean-up so easy but, in this case, it is going to help you remove your orange-vanilla yogurt bread from the pan without leaving a large chunk of the bread in the bottom of the pan!
I used coconut oil in this recipe and while I am a huge fan of coconut oil, I realize that not everyone is.  If you don't have coconut oil (or don't want to use it), you can always substitute an equal amount of melted butter or (as a last resort) vegetable oil.
Scroll down for the recipe!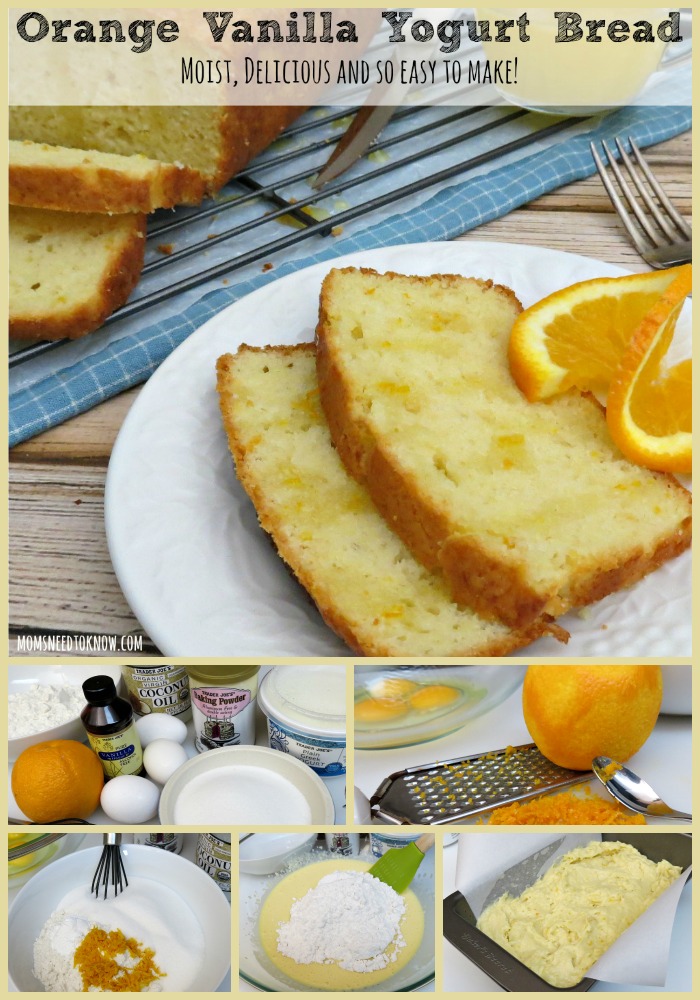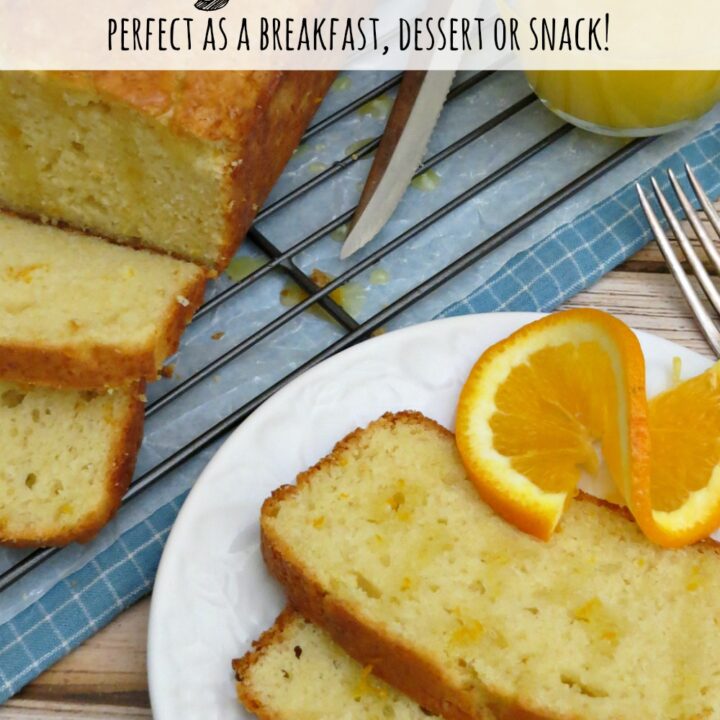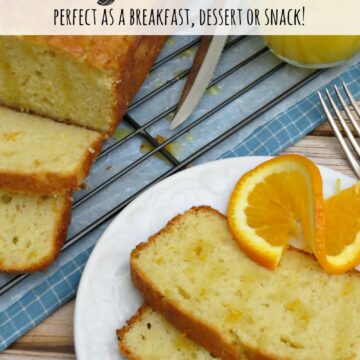 Orange Vanilla Yogurt Bread | Perfect for Breakfast or Dessert!
This orange vanilla yogurt bread uses Greek yogurt to give it a ton of moisture. It is so easy to make and can easily be frozen!
Print
Pin
Ingredients
1 1/2

cups

all-purpose flour

2

teaspoons

baking powder

3/4

cup

sugar

1/8

teaspoon

salt

1

large orange

zested & juiced

1

cup

plain

Greek yogurt

3

eggs

large

2

teaspoons

vanilla

1/2

cup

coconut oil

melted

1

cup

powdered sugar
Instructions
Preheat your oven to 350 degrees F

Spray a 9 x 5" loaf with non-stick cooking spray and line two sides of the pan with Parchment paper. Leave some sticking out over the top to help lift the bread out later.

Zest the orange using a fine grater or microplane. Gently grate around the orange, removing all of the dark part of the skin. Be careful not to grate the white part as it can be bitter. One large orange should yield about 3 teaspoons of zest. Set aside.

Squeeze all of the juice from the orange into a bowl and set aside. I do this over a small mesh strainer to easily remove the seeds.

In a medium size bowl, add the flour, sugar, baking powder, salt and two teaspoons of the zest. Stir to combine.

In a large bowl, combine the eggs, yogurt and vanilla and whisk until smooth.

With the mixer on low speed, drizzle all of the melted coconut oil into the egg mixture. Beat until it's a pale yellow color, about one minute.

Add the dry ingredients to the wet and mix until just combined, being careful not to overmix.

Pour the batter into your prepared pan and bake for 45 - 50 minutes or until a toothpick inserted in the center comes out clean (mine was perfect at 45). Do not overbake or you'll wind up with a dry bread.

Check the bread after about 35 minutes to see if it's getting too dark. If it is, lay a piece of foil over the top.

At the 40-minute mark, check the bread to make sure it is completely cooked. An inserted knife will come out clean when it is done. If no, continue to bake, checking every 5 minutes, until done. Remove from the oven.

Let the bread cool in the loaf pan for about 15 minutes before removing. Using the Parchment paper as "handles", lift the bread out of the pan and allow it to cool completely at room temperature.

Serve with the glaze drizzled over the top or for dipping, if desired.
To make the glaze:
Add the powdered sugar, four tablespoons of the orange juice and orange zest to a small bowl and whisk to combine. If the mixture is too thick, add the remaining orange juice, as needed.

Microwave for 10 seconds, whisk and repeat two more times. This helps the sugars completely break down and the flavors to blend. Do not boil it. You're just warming the glaze through. Put into a serving dish to serve with the bread.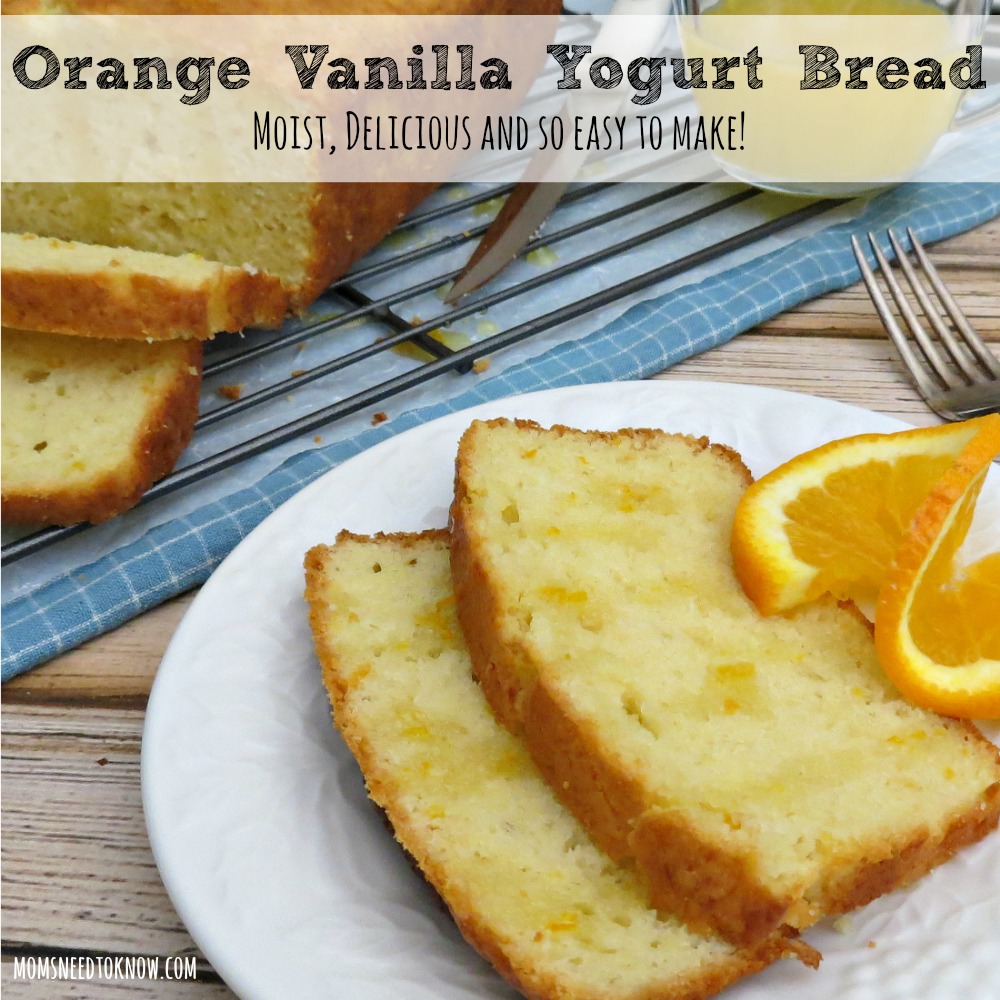 Orange Vanilla Yogurt Bread