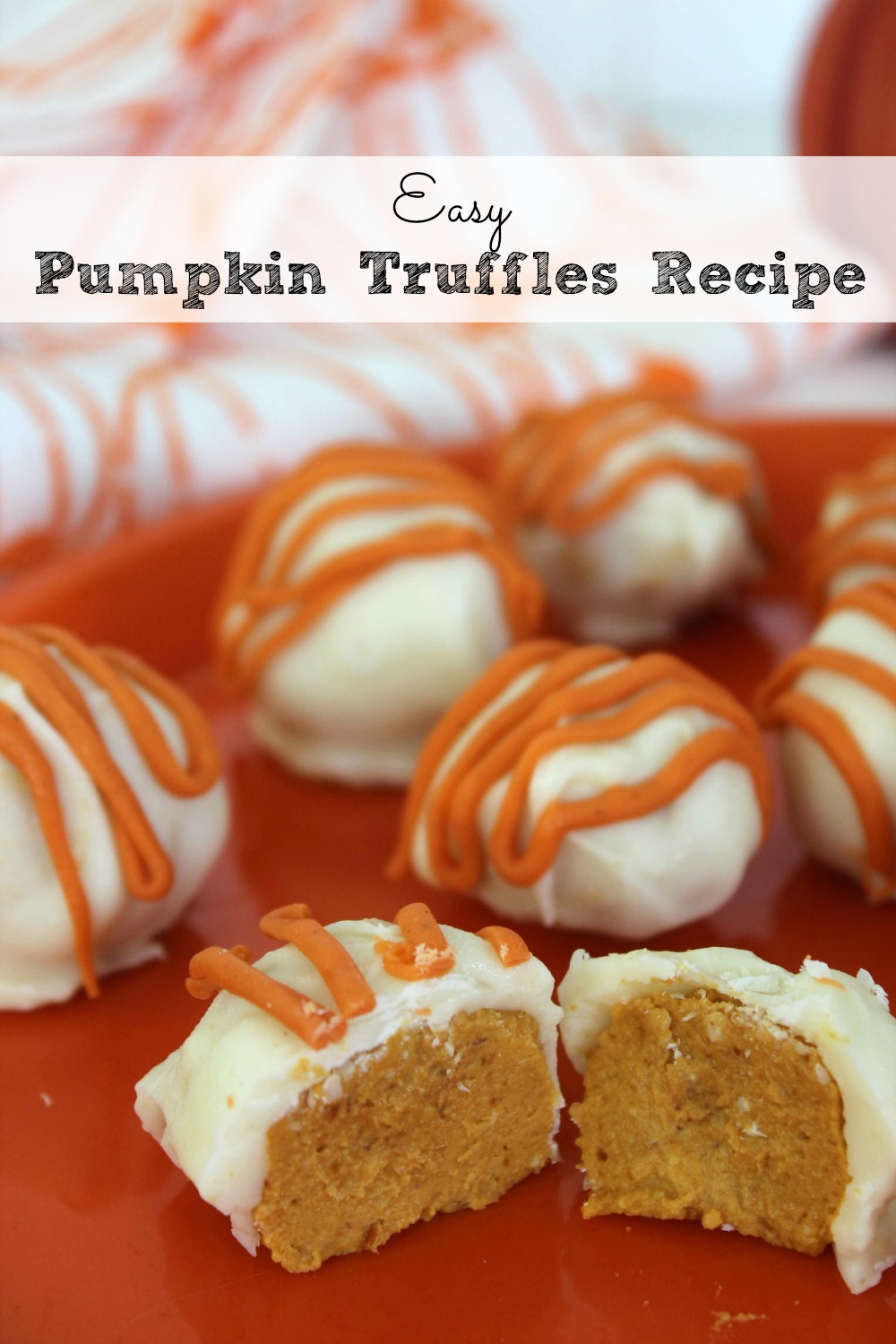 I think that, by now, my love of truffles is well-known. I started with just some simple Oreo Truffles and when everyone went nuts for them last Christmas, I experimented with making Peppermint Oreo Truffles and those were an even bigger hit (both with you, my readers, as well as any time I take them anywhere. There is a guy at my church that always asks me my schedule for being on the "baking squad" so he can come to that service because he knows I always make my truffles!).
They are just so easy to make, require no baking and are the perfect size when you want something sweet!
Seeing as it is pumpkin season, it just makes sense that we should give pumpkin truffles a shot! These require a little more work than my Oreo Truffles (which have only 3 ingredients), but they are still really easy to make and the extra effort is definitely worth it!
As with my Oreo Truffles, it is critically important that you place the truffles in the freezer and allow them to be completely frozen (as in - rock hard) before you attempt to coat them with chocolate. Trust me when I tell you that, if you don't, they will completely fall apart in the chocolate and you will be left with a gloppy, pumpkiny mess (yes - those are words....maybe!).
While you can make these any time of the year because you can really get pumpkin all year long, the one item that you might have some difficulty finding is the pumpkin spice melting chips. They are a very seasonal item and your store may not always have them in stock.
If they don't have them - no worries! Just use regular orange melting chocolate for the drizzle instead (although I might mix a few brown chocolate chips in with the orange to make the color less bright). Another alternative is to skip the orange chocolate completely and just sprinkle some extra graham cracker crumbs.
Scroll down for the complete directions!
Need some more pumpkin in your life?  Try these recipes: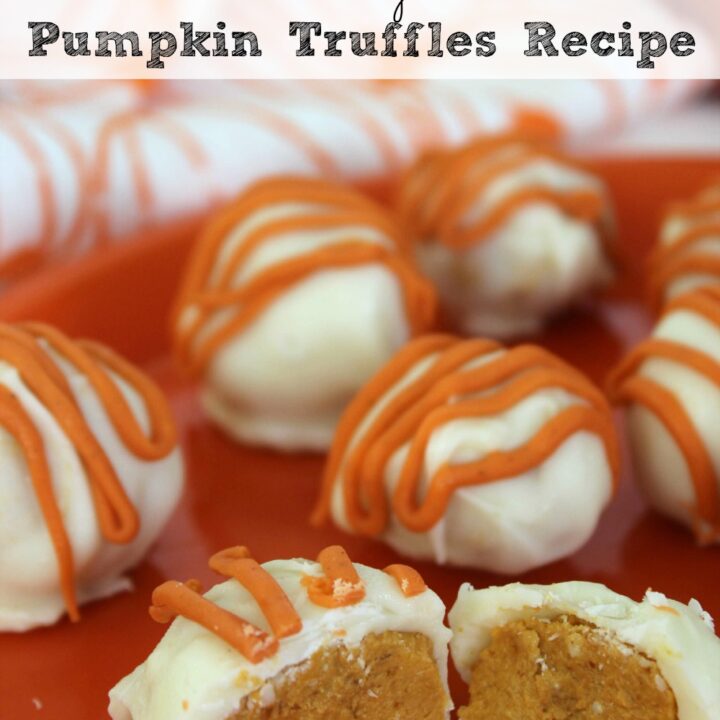 Ingredients
12

oz

White Almond Bark or White Melting Chips

divided

1

cup

Pumpkin Puree

1

cup

Graham Cracker Crumbs

1/4

cup

Wilton Pumpkin Spice Melting Chips

optional - you can also use additional graham cracker crumbs

2

oz

softened Cream Cheese

1/2

tsp

Pumpkin Pie Spice
Instructions
Melt 2 oz white candy by heating for 30 seconds in the microwave, stirring and repeating until smooth.

Combine melted white chocolate, cream cheese, pumpkin and spice and mix well until completely combined.

Stir in crushed graham crackers.

Place bowl in freezer for 30-40 minutes until dough is firm.

Line a baking sheet with parchment paper.

Form into 3/4 - 1" balls and place on prepared pan.

Place in freezer for at least 20 minutes.

Melt remaining white candy by heating for 30 seconds in microwave and stirring and repeating until smooth.

Dip each ball into melted candy, shake off excess and return to tray.

If topping with graham cracker crumbs, immediately sprinkle the top of the truffles with the crumbs.

If drizzling orange chocolate on top, place truffles in freezer for about 10 minutes

Melt pumpkin spice candy chips by heating for 30 seconds in microwave stirring and repeating until smooth.

Transfer to zippered sandwich bag and clip corner.

Drizzle a little chocolate on top of each truffle.