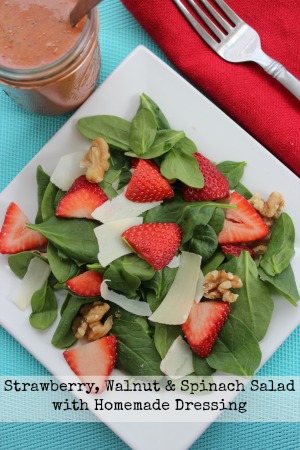 You know how we talked the other day about how to grow your own strawberries? Well, my strawberries are already coming in (just picked a few off this morning - delicious!) and this Strawberry, Walnut and Spinach Salad is sure to be on my lunch menu all summer long!
The best part about the dressing is that you make it with ingredients that you likely already have on hand and it will keep in the refrigerator for up to a week if you want to whip up some extra for later. You can also toast up some extra walnuts when you make this for the first time and they too will keep in an air-tight container (at room temperature) for a week. Just be sure to let them completely cool before putting them in the container or they will get soggy!
Make it even better (and cheaper) in the Spring and Summer by growing your own spinach.  You will save so much money over the bagged spinach!
To make this Strawberry, Walnut and Spinach Salad, you will need:
For the Dressing:
3/4 cup Olive Oil
1/2 lb Strawberries, hulls removed
2 tbsp Balsamic Vinegar
1/2 tsp Salt
1/4 tsp Black Pepper
1/4 tsp Tarragon
1/4 tsp Sugar
For the Salad:
Fresh Baby Spinach
Strawberries, chopped
Shaved Parmesan Cheese
Walnuts
Making it is easy!
Place all of dressing ingredients in a food processor or blender and blend until smooth.
Toast walnuts in a skillet over low heat until slightly brown.
Place Spinach on plates and top with strawberries and walnuts.
Add shaved parmesan cheese on top.
Serve with the salad dressing.
Enjoy!
You might also like these other salad recipes: