Remember when I said that, once you made my homemade blue cheese dressing recipe that you would never buy it at the store again? Well, the same goes for this balsamic vinaigrette recipe!  The addition of orange juice concentrate and a touch of honey gives you just enough sweetness, yet still manages the calorie count down.
This would make a great side salad, appetizer or even as a meal all on it's own.  If you want to add some protein, you could always add a little bit of crumbled feta cheese or even sliced boiled eggs. I wouldn't add any protein with a strong flavor (seasoned chicken breasts, etc), because the orange balsamic vinaigrette recipe is really the star of the show!
Make it even better (and cheaper) in the Spring and Summer by growing your own spinach.  You will save so much money over the bagged spinach!
To make it, you will need: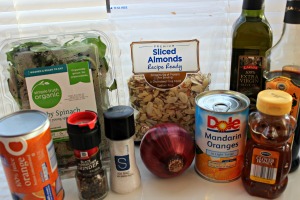 For the Dressing
1/2 cup Orange Juice Concentrate, thawed
3 tbsp Balsamic Vinegar
1 tbsp Honey
1 tsp Olive Oil
Salt and Pepper to taste
For the salad:
Baby Spinach
Red Onion sliced
Mandarin Oranges
Almond Slices
1 tsp Sugar (optional)
Scroll down for the complete directions!
You might also like these other recipes: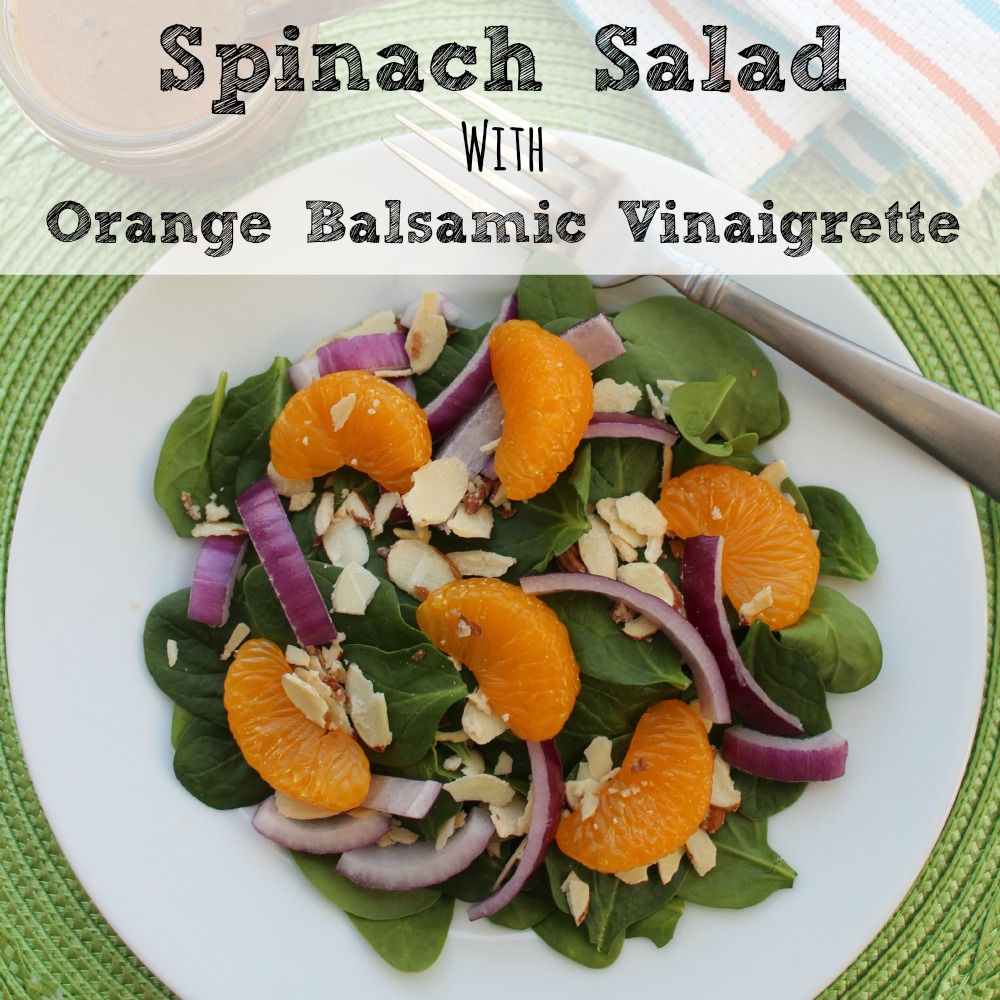 Spinach Salad with Orange Balsamic Vinaigrette Recipe
By Mindi
This orange balsamic vinaigrette recipe is fabulous over some baby spinach, mandarin oranges, red onion and toasted almonds! Have it as an appetizer or even just a light lunch!
Yield - 2 servings
Preparation Time - 10 minutes
Cooking Time - 0 minutes
Ingredients
1/2 cup Orange Juice Concentrate, thawed

3 tbsp Balsamic Vinegar

1 tbsp Honey

1 tsp Olive Oil

Salt and Pepper to taste

Baby Spinach

Red Onion sliced

Mandarin Orange Slices, drained

Almond Slices

1 tsp Sugar (optional)
Directions
In a non-stick skillet, toast almond slices with the sugar (you can omit the sugar if you like) until slightly brown. Set aside
Add all dressing ingredients to food processor or blender and blend until smooth.
Place Spinach on plates.
Top with Mandarin slices and onion slices.
Add toasted almonds on top.
Serve with dressing.