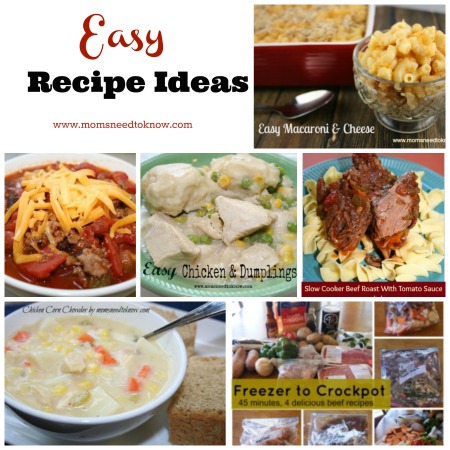 With all the running around that we moms do, we are always looking for easy recipe ideas! This week we are especially busy recovering from Christmas, visiting family, getting ready for the New Year and counting down the days until the kids go back to school!
This week I want easy.  I want to use stuff that I already have on hand.  I want comfort food too (it's COLD outside)! I also would love to stock my freezer with a few extra meals for even EASIER easy dinner recipes.
If you are stuck in a rut for dinner (or breakfast), try some of these recipes:
English Muffin Recipe - I love making these and I am able to fork-split them.  I often make a double batch, split them and then put them in the freezer!
Easy Recipe for Chili - what could be easier to make than chili? Pair this with some homemade wheat bread and you have a meal!
Beef Freezer to Crockpot Meals - with just a few simple steps, you can prepare 4 beef meals, ready to freeze and then put in the slow cooker when you are ready to cook them!
Crockpot Recipes - Beef Roast with Tomato Sauce - I love making this on Sunday.  I spend about 15 minutes getting it ready for the crockpot and then let it cook!
Easy Chicken and Dumplings Recipe - my children are SUCH picky eaters and they love this recipe!
Easy Macaroni and Cheese Recipe - sure - you can open the the box and make the powdered stuff. But why do that when it is so easy to make it on your own (and I made 6 of them last time, only cooked 1 of them and froze the rest. It's a great recipe to make in bulk to fill your freezer!)
Chicken Corn Chowder Recipe - this chowder is hearty, filling and oh-so-cheesy!
Roast Chicken Recipe - so simple and so delicious
What are some of your favorite easy recipe ideas?